So it seems to me like I have really been gone forever, but it's only been one little week. But in the blog world, that is a lifetime! Especially for one who checks other blogs sometimes a couple times a day…hence why I needed a break from this vice we call a computer! By the way, have I told you that I still love our Mac. I was really upset when Ian got rid of our PC, but looking back, this is so much better. I still have yet to use it to it's full capacity, but it's on my project to do list. Ian has really been kicking butt at the whole self teaching thing on Adobe programs. He seriously amazes me at his limitless talents. In the short/long week I had we really didn't do a whole lot.
I am still working on some unfinished tasks around the house, but really, is anyone ever caught up on those things? It's sad when I had to put on my to do list, "be creative" because that is how my life is right now. I figured, my blog is something that requires some creativity or else no one would read it. So check that off for today.
We got to hang out with our favorite Texans this week. We absolutely love the Meyer's family. Quick background story. Ian first got to serve their two youngest boys in a church calling so we got to know them through activities. Then we got to know their parents because we knew the boys. Mike and Margie had a son on a mission and a daughter away at school so we didn't get to know them until way later. Through the years and moves we have gotten to love the whole family and feel like family when we are around them. It's funny because the comment was made when we were leaving that they had to rise the cooking expectations because Ian and I were coming for dinner. I laughed at that because they said we are such foodies! They don't know that I feel the exact same way about all of them, but get so excited when have dinner together. I commented to Ian on the way home that we have never had anything we didn't love at their house.
Speaking of food, which I seem to do alot of these days, Ian's family introduced us to a delicious wing place called Buffalo Wild Wings . SO GOOD! They sell their sauce so I am going to try to recreate their boneless wings at home.
We have really been enjoying Liam these last few days. He cracks us up! At church on Sunday he finally fell asleep in my arms. When he woke up in Relief Society, he looked up at me, smiled and started to clap. I couldn't help but laugh out loud as did the other ladies who saw. Ever since he was born, he has been pretty happy when he wakes up on his own. The last few days when he has gotten up in the mornings or from his naps, I hear him in his room jabbering on and then gut laughing at something he said. I usually listen at the door for a few minutes because it's the best sound. I always wonder what is so funny!
A couple of days ago I was vacuuming his bedroom. He hates the sound of it so i usually have to carry him around while I do it. Before we moved I got him used to it so he wasn't afraid anymore so I am not sure what is up. It was right before his nap so I just did his room and put him down. I thought he was asleep enough so I finished the living room rug and then moved onto our room. When I was done, I heard him wailing. And not just the "I want out" crying. The "I am so beside myself because I think the vacuum is going to eat me" cry. When I went in to his room to console him a bit, I found this…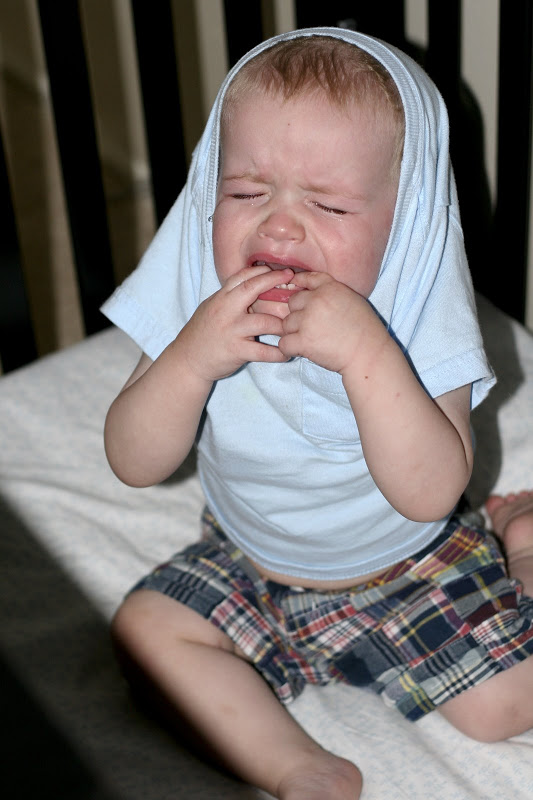 I couldn't help but grab the camera. Any respectable scrapbook mother would do the same!
There was a twinge of guilt as I was snapping these off because he had actual tears, but I knew he was okay. He just might need a little therapy later on in life. I have no idea how he got his shirt up like that, but these pictures are going to be perfect for his future wedding video. I think the funniest part about this is that in the next picture, he finally realized that I was taking pictures and actually smiled at the camera while trying to cry at the same time.
I love you so much, you silly kid!