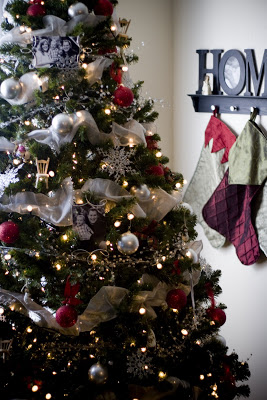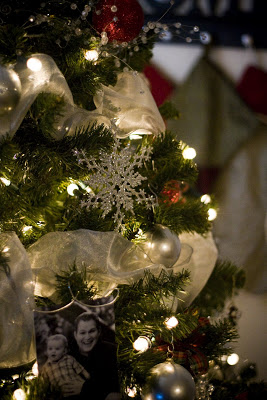 Typically we don't put up Christmas until the day after Thanksgiving. It's been that tradition in both our family for eons! I sweetly convinced Ian to let me put it up the Tuesday before Thanksgiving because we would be out of town and not here the day after Thanksgiving. He just gave me that "you are crazy, but I love you" smile and pulled all the decorations buckets out for me. I love that he never complains that I take too long lighting the tree while he is standing there holding the strands. It makes up for that he doesn't get envolved in the actual decorating of the tree. I like it that way, because I am too picky of where everything goes. I had to get over that pretty quickly this year, because Liam had his own plans of where the bottom half decorations went. Good thing for plastic-made-to-look-like-glass ornaments. It only took him two days for the novelty to wear off and now he doesn't touch the tree. Every year we usually buy something new for the tree, but this year we are taking a pass. I am hoping to get some large green somethings next year. Every year I decorate it the exact same way and think that year is the best looking tree. This year I feel a little different and think that it looks alright…Something is missing and I can't put my finger in it.
When we were in Oklahoma we all went to the mall to detox from our cabin fever. I can't ever resist passing a Hallmark and not walk in. The first thing that caught my eye was this (the houndstooth variety!). Ian splurged the 4.99 and bought it for me. We didn't have any wrapping paper so this was a good start. I am opposed to buying any wrapping paper before Christmas, but I couldn't pass this one up. I mean, hitting the great sales after Christmas for wrapping paper is just so much smarter.
I started our cards yesterday and they are turning out so much more cute that I had invisioned in my head. I am hoping that we can take some pictures on Saturday to put in there.