of a mother! I remember when my shopping experiences used to consist of clothing, jewelry, new hair product and make-up for myself. Or stuff for Ian or the house…now I find just as much pleasure in buying things for Liam. The last big ticket item for him and our future children.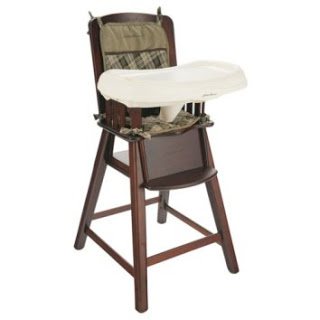 We wanted this particular one because it matches our kitchen table and chairs. Kind of a lame reason, but we absolutely love it. Ian assembled it last night and Liam looked so teeny tiny sitting there. I know it will be only minutes before he is too big and grows out of it.
Today Ian took the day off so we are just lounging around scrapbooking (me), reading the book, Twilight, a.k.a napping on the couch (Ian) and gabbing away while rolling around (Liam). Later we are going to our favorite Utah restaurant, Carrabba's, thanks to my good friend, Holly! I love it when Ian takes off on a Friday because it feels like we have two Saturdays in a row. Tomorrow after I go help Ian with his engagement pictures I am going with some friends to a Religious Women's Conference that I am so excited for. It's always nice to be refueled with good things. Life sometimes just sucks it right out of you!
Then on Sunday we are having dinner with our cousins and there adorable little girl who is Liam's age. It's a running joke on Ian's side of the family that whenever I am asked to bring something, it's always dessert! I totally don't mind, but sometimes I struggle with making the same thins. So yesterday I found this recipe that sounds so scrumptious that I have to make it. Very fall!
Fresh Apple Cobbler
6 cups sliced peeled tart apples (4 to 6 medium)
1/2 cup granulated sugar
1/2 cup dried cherries
1/4 cup water
1 tablespoon cornstarch
1 tablespoon fresh lemon juice
1/2 teaspoon ground cinnamon
1 can (12 oz) Pillsbury® Golden Layers® refrigerated flaky original biscuits
1/4 cup butter or margarine, melted
1/2 cup quick-cooking oats
1/2 cup chopped pecans
1/3 cup packed brown sugar
2 tablespoons all-purpose flour
1/4 teaspoon ground cinnamon
1 .Heat oven to 375°F.
2 .In 4-quart saucepan, heat apples, granulated sugar, dried cherries, water, cornstarch, lemon juice and cinnamon to boiling over medium heat, stirring frequently. Boil 1 minute, stirring constantly. Reduce heat; cover pan and cook 10 to 15 minutes, stirring frequently, until apples are starting to soften. Pour into ungreased 13×9-inch glass baking dish.
3 .Meanwhile, separate dough into 10 biscuits. Cut each biscuit into quarters. In large bowl, toss biscuits with melted butter.
4 .In small bowl, mix oats, pecans, brown sugar, flour and 1/4 teaspoon cinnamon; add to biscuit pieces. Toss gently, breaking apart any biscuit pieces.
5 .Arrange biscuit pieces over hot apple mixture. Sprinkle any remaining oat mixture over biscuits.
6 .Bake 20 to 25 minutes or until biscuits are deep golden brown and fruit mixture is bubbly.