32. Not as bad as I thought it was going to be. Even though it's a great age, I still feel old. But I guess that will never pass because I get older every day!
So here is my birthday equation…
Fantastic husband+my very own website from my fantastic husband+hand wrapped gifts of plenty from that same fantastic husband (the first time he has actually wrapped my birthday gifts…that's big to me)+wonderful gifts and Lehi Roller Mills Brownie Mixes from parents+ not one, but two twilight themed cards, sprinkle doughnuts and chocolate milk left on my doorstep by a friends (she didn't even know that sprinkles are my favorite!)+a beautiful bracelet from Ian's coworker…totally unexpected, but very nice+a million texts from friends and family with birthday wishes+PINK body spray from Victoria Secret (thanks, Becky! it still makes me laugh…inside joke)+CVS even sent me a coupon for a free soda…feeling so special now+a superb poem from my dear friend Lori letting me know that I was going on a girls day out the following Saturday+an adorable purse and flip flops from Ian's family+an actual massage from an actual masseuse from said fantastic husband+a wonderful dinner out that I did not have to make or clean up after=THE BEST BIRTHDAY EVER!!!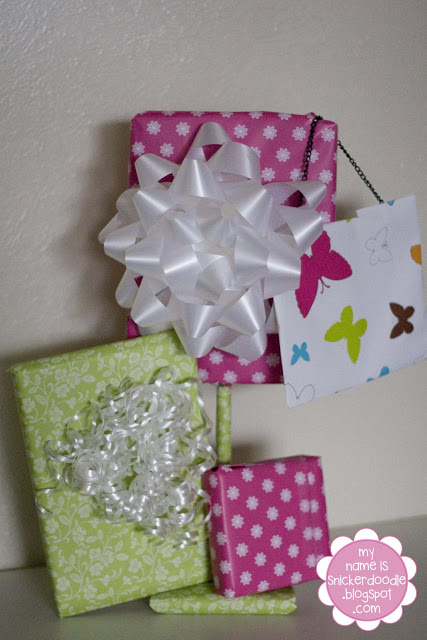 Here are the presents that Ian wrapped for me (one of my favorite parts of my birthday). I would love to have my own gift wrap room in my future mansion one day! The reason I posted this picture is because I was cracking up over how he wrapped the present in the back. It ended up being this in black, but he meticulously wrapped the stand on it's own. He said with the bow on it, he wanted it to look like a flower. He did his job right!!! He really did make this day super special for me, which means so much. Thank you Ian and all the family and friends who made this day the best!
So birthday part 2…
My sweet friend Lori took me out Saturday afternoon for good old fashion girls day out! We started off with a fabulous pedi (me) and fabulous mani (her). Then we darted off to Chick-fil-a (my absolute favorite) for some lunch. We made it just in time to see 17 again with little ol' Zac. It was pretty cute! A cross between Freaky Friday and High School Musical 3 (hello same opening scene)
Then we gorged ourselves on these little beauties.

She is such a fabulous friend…thanks, Lori for being fabulous!