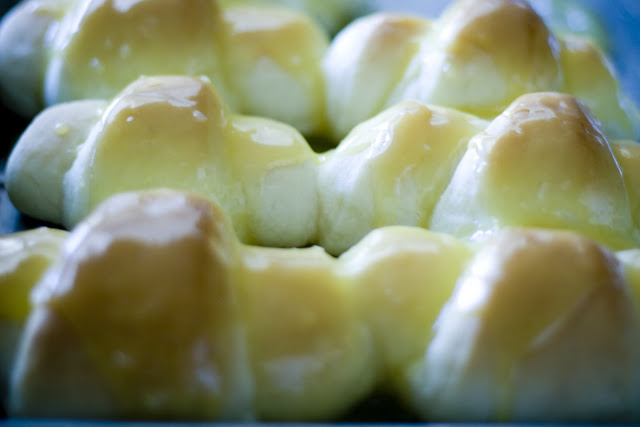 Okay, so here is the recipe I promised. Over a year ago our neighborhood had a recipe email exchange headed by the ever wonderful Lori. Every month or so we would send her recipes for that particular category and then she would format it all and send it to everyone on the email list. So fabulous! Well, for the last 4 days I have been compiling all of my random recipes from cds, emails, magazine clippings and previous ones that I had already printed out. It didn't take me as long as I thought I would so that was great! Anyways, I found this little gem from our neighborhood recipes by Jenn. So I can't take credit for it…just credit for making it and eating way too much of it. She had a crescent recipe with it, but I just made my favorite bread recipe. Now, I didn't always make bread until I found another recipe that I forgot I had. I discovered it when I was unpacking and decided to give it a try. SOOOOOO easy and better than Rhodes rolls. Rhodes rolls are like gold in my house so it's a pretty good recipe. So, for those of you who make your own bread, great. For those of you who don't know how to make bread and want to, refer to the recipe below. For those of you who don't make bread and really don't want to, totally use Rhodes rolls with this.
Orange Glaze
3/4 cup sugar
1/2 cup sour cream
2 TBSP orange juice concentrate
1/4 cup butter
Mix together in a small pot and boil for 3 minutes. Brush over warm rolls.
Rolls
1 1/2 cups warm water
1/2 cup sugar
2 TBSP yeast or two packets
Gently mix together in a bowl and cover with a towl. Let it sit in a warm spot for 6 minutes. You should see bubbles. If you don't wait up to 20 minutes and if you don't see bubbles start again and check your water temp.
In a large bowl, mix together yeast mixture and
2 eggs
2 tsp salt
1/4 cup soft butter, not melted
4 1/2 cups flour
Dough will be stick so don't worry. Cover this will a towel and place in a warm spot for 1 hour. This is usually when I put the bowl on the dryer and then put a load in…let the heat do double duty.
It should double in size. Punch down dough. Spray another large bowl and transfer dough. Cover with plastic wrap and let it sit in the fridge over night. Yesterday I made it in the morning and I made them that night for dinner so as long as you let it rest in the fridge for 6 hours, you should be fine. It will continue to rise. About 1 1/2 hours before you want to serve them, take it out of the fridge and turn out onto floured surface. Divide it in half. Roll out into two circles and then cut each into 12 slices (like a pizza.) Roll up like a crescent roll. Place on greased cookie sheet (you might need two). Cover them with a towel and let them rise for another hour. Just about the right time for another load of laundry! Bake at 375 for 12 minutes or until lightly golden brown.
Enjoy!!!