We are finally done with Christmas shopping! We didn't have much, but when the parking lot is full and the lines are horrendous…it sure seemed like a lot. I even braved the mall at 9:00 tonight and made it out alive! I got all the wrapping done, too. I have two Christmas obsessions. One of them is arranging and rearranging the presents under the tree. Whenever a new present is added, it must be put in the perfect place.
Another one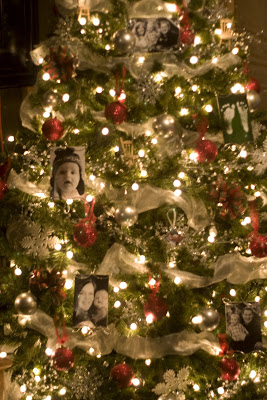 are the Christmas tree lights. I love, love, love to put lights on my tree. I was taught from a very young age (thanks mom!) how to put the lights away when the tree goes down so the next year they are a breeze to put back up. And every year I always comment that this year's tree is the best. Even though we don't really add any new ornaments and I definitely put everything in the same place….it's always seems a little more beautiful that year. This year we did buy fun wire picture frames from Potter Barn. I can't find a picture online, but we really regret not buying more of them. I have silver super thick ribbon, crystal beaded garland, red glittery balls, matte silver balls, silver glittery snowflakes, and white glittery snowflakes. There are a few other random ones, but I do love my tree.
I also snagged a shot of our advent calendar. We glued all the boxes to a painted canvas so we can just hang it up each year. I lined each of them with cute pattern paper inside (sorry no picture) and then either stamped or rubbed on the numbers. It was so fun to make, but kind of time consuming. And there is our cute tiny nativity set. I hope we have it always. Those silver things off each side are our stocking holders. Now thinking about it, most of our Christmas decor is from Hobby Lobby. They don't have one where we live now, but we sure need one!
I t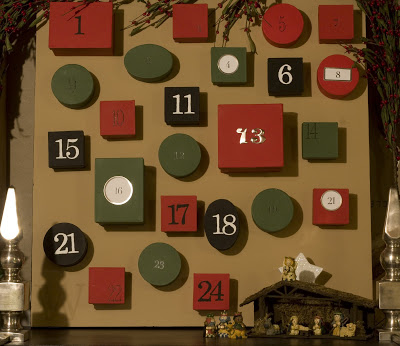 hink we are pretty much ready for Christmas day to come. Let's hope!