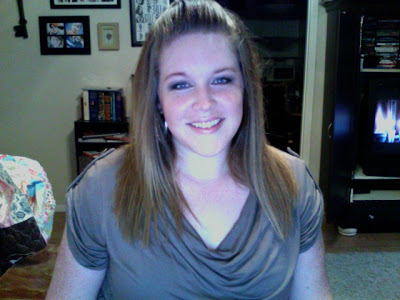 So, I was tagged by lovely Tricia and it has taken me forever to do it! Last night I had a minute before we were off to the Dave Matthews Band concert so I took my picture, but then my minute was up and we had to go.
I love Photo Booth on the Mac! It's not the best picture quality, but there you go!
Here are the rules:
Take a picture of yourself right now, no primping or preparing. Just snap the picture.
Load onto your blog.
Tag 3 people to play… remember if you are tagged on another blog we will all be heading to yours to see if you played along.
So I tag…Rachel (because I am dying to see your cute preggo belly!), Janine (because you haven't blogged for a while and I know you look fabulous!) and Britt (because I don't see enough of you beautiful face on your blog!).
So our friends couldn't use their tickets to the DMB concert that I am sure Becky was dying to go to. They called us up to see if we wanted them. Since Ian has never been to a concert (and I think they are a blast) we took them up on their offer!
Long story…long.
It was pouring buckets yesterday and since it was in an outdoor amphitheater, we opted not to go.
It stopped raining so we changed our minds
It started to rain with major lightening and thunder so we opted to go to see Wolverine.
Our other friends who were going (and won tickets on the radio, lucky duck) called and said it wasn't raining at the concert so we changed our minds again.
After returning our movie tickets we drove over to the concert which google maps said it would take 35 minutes to get there.
It took us exactly 1 hour and 42 minutes to get there because of accidents, and traffic for another game that was going on a neighboring venue.
We were late.
The concert was fabulous and I didn't realize that Dave had so many fans!!! He isn't my favorite, but I am up for anything musical!
We left early because it started to pour and pour and pour.
We stopped off at Whataburger to share a burger, fries and Dr. Pepper.
I really, really, really enjoyed myself just being the love of my love's life. We laughed about nothing and sometimes that is the best. We need to go on more dates because Ian is so fun to be around!
Crossing our fingers that there was enough alcohol there to kill off the swine flu! (Not that I condone drinking just the killing of bacteria!!!)