I am in a cleaning mood…more like a 'let's throw everything out' so I don't have to pick it up off the floor again. I started with Liam's room because his was the worst. Ever since he was about 6 months old I started a toy rotation. Put half of the toys away and then 4-6 months later pull them out and pack the other half away. It's worked really well so far and it's fun to see him rediscover his toys again. Well, we went through a transitional phase where all of his packed away toys were baby toys so I didn't bother rotating them. Since Christmas and his birthday he as accumulated too much toy clutter in his room and it drives me crazy. So back to the beginning, I am in a major cleaning mood!
I came across these in his closet.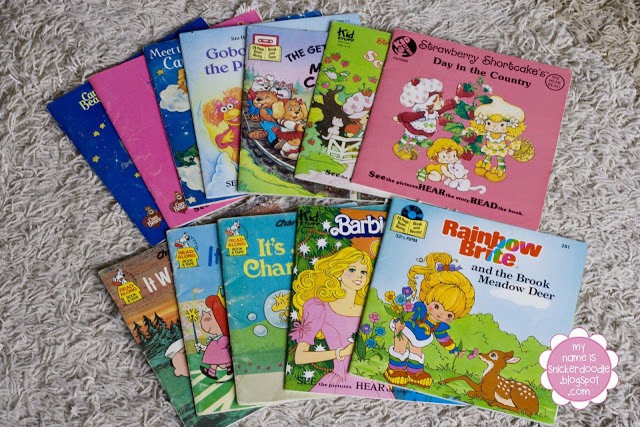 I forgot that I took them back when I went to Utah this last time. These were my favorites growing up and I used to listen/read them all the time. My mom still had all of the records and tapes that went with them. The records I threw away, but I still have the tapes in hopes that I can transfer them to MP3's. My favorites where the Care Bears and Strawberry Shortcake books! I also have a bunch of Disney books as well…all together 23. I decided to rotate them into Liam's books (because their are boy friendly ones in there, too) and hopefully he will love books as much as I did as a kid!