This little guy started preschool this week.
After trying to get him to stop moving so I could get the "perfect" picture I received this face…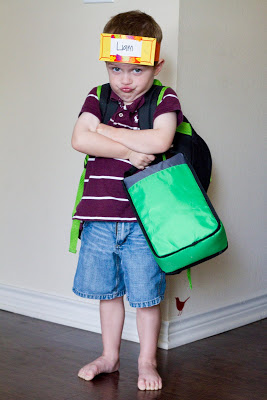 …which is perfect in and of itself, don't you think?
(I do the whole nostrils flaring laugh every time I look at this picture.)
And finally after playing our game of sad face/happy face, I received "my" perfect first day of school picture with a geniune smile.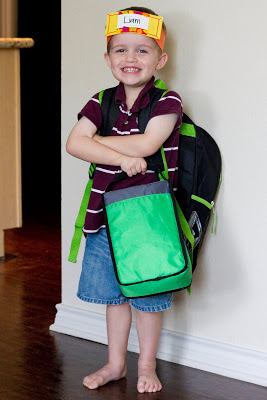 Well, true perfection would have been him wearing shoes, taken before preschool started (this was actually hours after preschool was over) and a better quality picture, but who would ever consider
myself a perfectionist? Not me!
We are part of a co-op similar to what we were doing here and I got to teach the very first week. 2 times a week for 4 hours with 6 boys=a very tired mom, but a super happy Liam. He cried yesterday when they all left because he had so much fun with them.
It's so fun to see how much he has learned just this year alone.