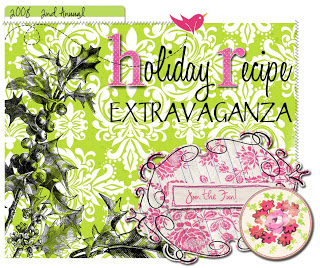 I think that Twilight and food pretty much sum up my blog! Sad, I know! However, I found this on another blog and thought it was a fabulous idea. Shelly is inspiring us to share our holiday recipes. Check out her blog for details for the Recipe Extravaganza!
My mom found this recipe years ago in a magazine and we would make them every Christmas for quite a few years. It's a favorite!
Bon Bon Cookies
3/4 cup shortening
1/2 cup sugar
1/4 cup brown sugar
1 egg
2 tsp. vanilla
1/2 tsp almon extract
1 3/4 cup flour
1/2 tsp baking powder
1/2 tsp salt
1 bag Hershey's Chocolate kisses
Preheat oven to 350. Cream together shortening and sugars. Add egg and extracts and mix well. Mix in flour, baking powder and salt. Place 1 unwrapped kiss in the center of small amount of dough and roll into a ball. Place in cookie sheet and bake for 12 minutes. You don't want the dough to be golden brown, just cooked all the way through so watch carefully.
**I think it would be fun to try them with the caramel kisses…YUM!