I had tossed around the idea of making blogging every day a goal of mine this year. Good thing I didn't because I would have already failed! I did make it one of my goals to spend less time on the computer, but I don't think that I will blog any less because of it. For the first time in years, I actually wrote down my goals for the year. In the past I had them in my mind, but something I learned from my dad is that YOU HAVE to WRITE DOWN your goals if you want to achieve them. It was something that I have done and was successful with. I encouraged Ian to do the same so we purchased a framed cork board and are sharing the space.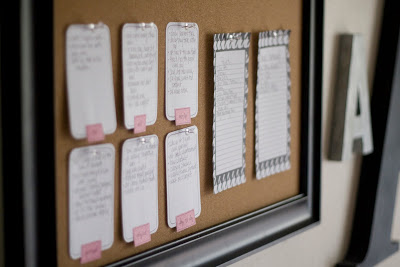 I never fell into the pressure of having your goals or resolutions set in motion on January 1st. Usually I don't even have them made by January. I like to give them thought and really try to make them life changing and achievable. This year I broke them down into me, wife, mother, spiritual, physical and day to day.
Don't let a "date" make you think it's too late to set some goals. Just set one and try your hardest to get it done. You might be surprised of how good it feels!