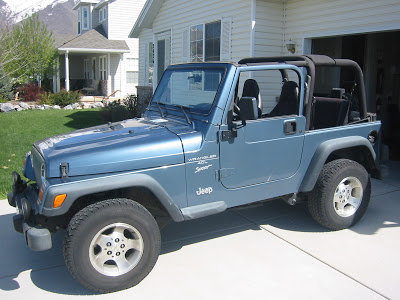 Sold…to the highest bidder! Well, the first person that actually called Ian and made a great offer. It was officially gone on Friday as we handed the keys over. A tear or two was shed…not for the Jeep, but the memories it represented.
Make out sessions when dating (sorry mom!)
Ian asked me to marry him in it…later proposing to me with a ring at Cascade Springs which he drove crazy up the canyon in that Jeep.
Driving to and from Texas twice in that super loud and bouncy Jeep.
Last summer driving for the first time with the top off.
Letting Ian's little brother drive it before he got his license.
Trying to fit our kid and his stroller in the back seat with the diaper bag in my lap cause there was no more room…hence our fun new car with 4 doors AND a trunk!