my last two posts were downers…how about a pick me up with an adorable picture! I still cannot get enough of him! He is rolling around everywhere and has been sleeping on his tummy for almost a month now. I was worried at first, but he loves it and sleeps so much better. It's weird to think that he is already 7 months old.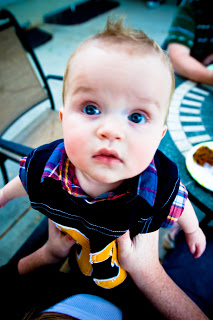 We are still practicing the whole sitting up and I think he almost has it down. Darn that gravity!
Last night I couldn't sleep and all I could think about was scrapbooking. I haven't done it in months and am now just further behind on his album. I know why scrapbooking mother's roll their eyes in guilt when people even bring up the subject. I have some fun ideas in mind, I just need to sit down and do them…remember the whole procrastination thing???…I am going to push it aside and do some pages this weekend. A break is very well needed! To bad I didn't have an extra $100.00 just lying around so I can go and "buy" some inspiration at the scrapbook store.
Speaking of fun pictures (above) Ian is upgrading to a 40D camera and is so excited about it. He is having a blast taking a ton of pictures lately and doing a fantastic job. It's so great to see the glimmer in his eye when he talks about it too. I am really getting into the MAC (well…kinda…not really) and learning just a few new things here and there. I am loving his picture program, though, and do want to master it someday.
We have to wait a few more weeks until the new company launches so I will keep you informed and cannot wait to post a link! And as for the other company we are treading through and making it more wonderful by the minute! SO EXCITED!!!