It's been over a week since we went to Vegas and I am just getting around to posting some pics. Ian called from work on Friday and said the whole company was getting off early to start the Memorial Day weekend off right. On a total whim, he suggested that we drive to Vegas for the day. I am was born there and lived there for a while when I was a young teenager. Ian has only driven through and wanted the Amy tour. I am so not a spontaneous person, but decided that it was time to be. We invited my parents to come along with us since they are both from there as well. We stopped in St. George to spend the night so it wouldn't be so tiring.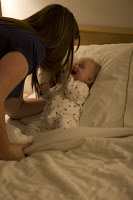 Ian and I had a blast taking pictures of Liam and came up with the quirkiest idea to start a blog for Liam…You have to check it out. Then you really will see what dorky parents we are (but we enjoy it!). Once we got into town, we drove up to the LDS temple and walked the grounds to take some pictures.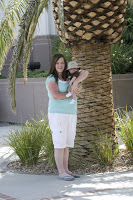 You know when you have those feelings when you go somewhere that you are going to see someone you know? I had it, but brushed it off because we were in a huge city. Needless to day we saw my cousin's wife Nicole and their little girl. She was there for a wedding and looking adorable…all "almost 4 months pregnant" of her.
We drove over to my elementary school and where my grandma and her sisters lived. We then drove over to where my mom grew up most of her life. Back in the day I am sure it was a fun and beautiful street to live on, but let's just say that you would not want to be caught walking the street at night alone…or even in a large group! My mom being crazy with wanting to remember got out of the car to take a picture of her home. The people currently living there barged right out the front door and did not look happy at all she was there. They calmed down a bit when she told them she lived there when she was a little girl, but we cut that detour short! My dad also lived across the street from her when he was a young adult, but they didn't know each other for a while until they both met at a volleyball game and discovered they were neighbors. Anyways…we drove around to where we lived when I was born, and ate at the ever so yummy Farm Basket so we could share a Gobbler with Ian.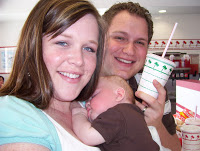 Later in the day Ian had been dying to go to In-N-Out Burger which was just as yummy. I drove when we went up and down the strip so Ian could bask in the…well…glitz, glam and filth…and take pictures. We went during daylight so the filth wasn't too bad. We stopped at Cesar's Palace because I wanted to walk around the Forum Shops and see how everything has changed, but still somewhat the same. The ever so delicious Cheesecake Factory was our stop for dinner and by that time we were stuffed. We all just should have been smart like my dad and just gotten cheesecake. Around 5:00pm Ian and I headed home while my parents stayed another day.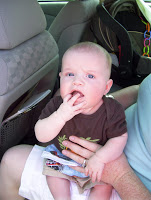 The whole time Liam did wonderful. He did get a little cranky at the end because he practically spent the whole day in the carseat, but who can blame him. It's always fun to go back to your past and see what it's like now. It really hasn't changed too much. I think I will have to be spontaneous more often.