with my feet up (minus a little computer "escape" time). I am still done with feeling sorry for myself and my feet…especially when I look around at my mother in law (who is in a wheel chair for most of the time) and my dad who just painfully, yet successfully survived knee surgery.
Today I went to the podiatrist because on Monday my right foot was acting up (again). So I went in to check out my left ankle and the inside of my right foot.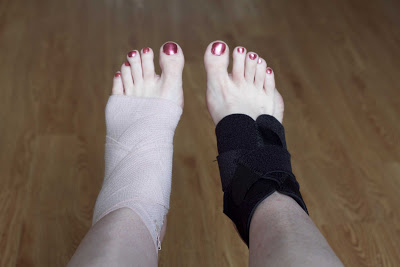 (Don't mind my pasty white feet!)
Stay with me on this one…
2 weeks ago my right foot was bothering me and in moderate pain.
A few days later my left foot started to have some moderate pain with my right foot starting to feel better.
I woke up two days later with my left ankle red and pretty swollen.
The swelling and pain increased over the next two days so we had a friend (who is an ER dr.) come and take a look.
He thought it looked like gout (which I most likely still have)
Sucking up the pain because I really don't like to take any meds while pregnant.
I kept off of my feet 90% of every day for a solid week.
3 days ago I woke up in the middle of the night because my right foot had a sharp pain shooting through it.
I woke up with the inside red and swollen.
Made an appointment with the pod dr!
He said I was compensating on my right foot for my painful left foot, got some bones out of whack and stretched some tendons that really shouldn't be stretch. He is worried that they have been stretch for too long that they could possibly tear (which would cause surgery=avoid at all cost). I have to wear a brace on the right and an ace bandage on the left, plus my clunky tennis shoes for a while and stay off my feet for as long as a mom of a three year old can during the day.
I really didn't care about all that, just that I got the approval to still go to Utah next week. 22 hours in the car is not ideal for a pregnant, gimpy woman, but I know we can do it with many, many stops and stretching!
I am the road to recovery and now have a brand new appreciation for those around me with far worse ailments!