Lately, I've been searching for something to read. Like, get lost in another world and not give any care to my worries kind of read. I'm always amazed how writers come up with such stories that transport you so seamlessly and come up with the story lines that they do.
I'm blessed to have not one, but two people in my life that are writers. Like, officially. One of them just happens to be my cousin, Angela. And yes, she is one of my sponsors. Nepotism is totally allowed in the blog world, right?
Angie, as I affectionately know and call her as is one of my younger cousins who I vividly remember her always reading. Like, always. Not one bit of exaggeration there. Even books that were past my grade level (at the time). It was always something that I admired about her. So, as she announced to her family that she was writing a book, I don't think any of us were surprised. We are, however, very excited to see what she has in store on this journey of hers. I know it's going to be epic!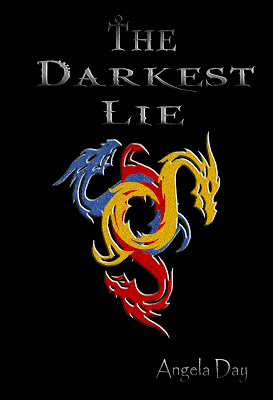 I'm really excited to bring this giveaway to you today! She is giving one of my readers her book (autographed) that officially comes out in paperback next Wednesday! Her book, "The Darkest Lie" just came out on the Kindle earlier this week and has already reached over 100 likes in one day. If you can't wait till next week, then you can purchase her book online here.
Here's the scoop on this Young Adult Urban Fantasy novel…
"15 year old Thane feels like he doesn't belong in his own life. He isn't
good at anything, really, and sometimes all he wants to do is disappear.
Then he meets Remi, an energetic girl who decides to be his friend and
bring him out of the shadows of his own life. Being her friend means
being noticed, and suddenly everyone is paying attention. His chemistry
teacher might be trying to kill him and a secret organization is trying
to recruit him. Thane discovers nothing about him is as ordinary as he
thought, including his ability to hear the music of the universe and
manipulate the strings that hold it all together. But it all comes with a
price. When Remi's life and the world of the Shae are threatened, Thane
has to decide whether he has the power to withstand the leviathan
inside and if his song is enough to save them all. The only burden he
carries is the fate of all worlds."
Pretty cool, right? Here are some of her reviews she's already gotten.
"If you like Urban Fantasy, or YA sci-fi or fantasy in general (as I
know many of you and your offspring do, reading friends!) Give it a try!
It has adventure, magic, complexity, humor, psychological depth-highly
recommend." -Laura Shingleton, Oregon
"Great stuff. A great achievement to have published that novel and made
her dream come true. If the first couple chapters are anything to go by,
I think the novel may stand out in its own right – not just as 'the one
written on an iPad., but as a heck of a good read." -Patrick Jordan, iPad Insight
I'm halfway into the first chapter and definitely enthralled! She gave a sneak peak here on her site, but if your like me, you'll want to read the whole thing. Here's your chance to get a hold of one of the very first copies!

I'm going to make it very easy to enter…
Tell me what's the last/current book you've read?
The giveaway will go until next Wednesday, November 14th and
I will announce the winner on Thursday!
Good luck to everyone!