Thank you to everyone who entered!
Melanie is the big winner!
Last night my husband went on a date. It might not sound so post worthy, but it's been months since we've gone anywhere sans kids! It was so renewing just to sit and talk to each other and focus on our relationship.
I cherish every date I get to spend with him. That's why I was thrilled to get my hands on this adorable date kit! It's perfect for those hot summer nights. I've posted a few times of how much I love Beyer's Ice Cream and Gelato Indulgences. It will be no surprise how much I love that I'm giving some away to you!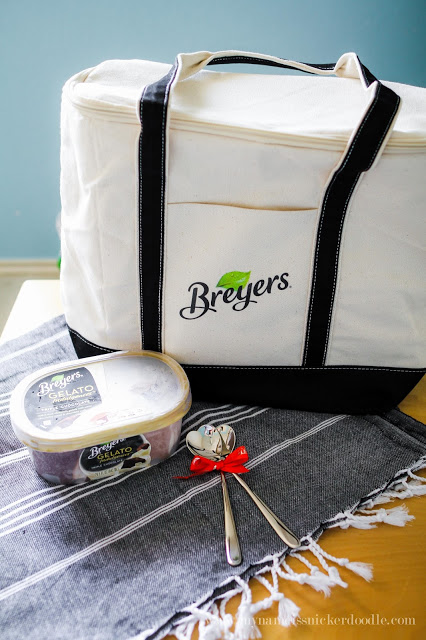 And not just one carton of their creamy dreaminess, but THREE! This giveaway will also include a very chic handwoven blanket from genuine Turkish cotton, one insulated cooler for you to transport all your chilled Indulgences and two heart shaped Alessi designer spoons so you can dig in on your hot date!
I love every aspect about my date kit and I know you will too! The blanket is super lightweight so it's a cinch to roll it up and take it on the go. The spoons are simply adorable and just the right about of romantic without being over the top! Plus their dishwasher safe! I am most excited about the tote because after our date, I can continue to use it on my grocery trips. And let's not totally forget that you'll receive three full value coupons for Breyers Gelato Indulgences. I'm a little embarrassed that my husband and I already "indulged" on the other two containers. It wouldn't have looked so pretty to take a picture of half eaten cartons! The Mint Chocolate and their Strawberry Truffle is to die for!
You have until early next week to enter below so the best of luck!