So here is what I am looking forward to…
Fitting in as many sno cone trips that I can. I don't think a week has gone by since June that I haven't had some good ol' tiger's blood!)
Seeing more free kid's movies at the theater. Liam does so well and sits through the whole thing!
More water fun! Since we live in Texas, the water time lasts until September!
Taking a road trip to San Antonio!
Getting to go to the beach with my guys for the very first time together!
Something more I want to do, but it's not really just a summer thing is to go to bounce houses with Liam again! Last week we went to a birthday party for two of his little girlfriends and part of it was at a bounce house. I wasn't exactly sure how he would do, but I should have learned from his whole swimming thing, that he wouldn't be as fearful as he has been in the past. HE LOVED IT!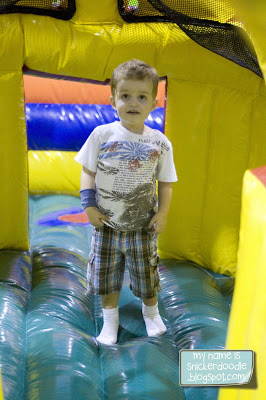 Yes, he is wearing a "sweat band" on his arm. One day I was trying to be inventive and do some super hero stuff with him. I cut off a pair of old socks so he could have some super power cuffs. He wore them every day that week, including to the party!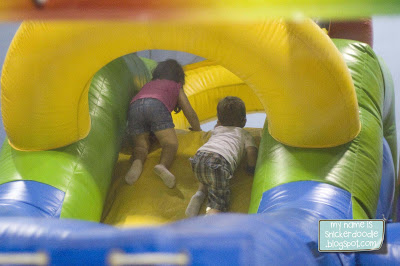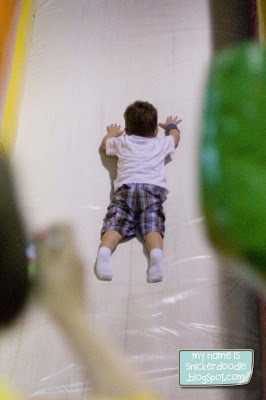 He saw some other kids sliding down this way so he decided to give it a try. It must not have been very fun, because he didn't do it the rest of the time…no…the rest of the time he practically jumped off the top until he slid the rest of the way down. Oh, to be a mother of a boy!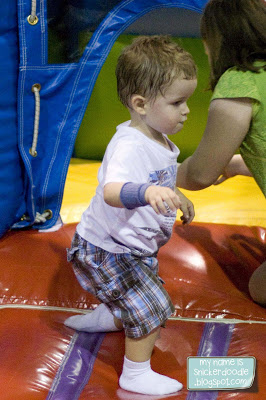 He takes after Ian when it comes to sweating! Hopefully he will have a great complexion when puberty sets in.