When I saw this post on this blog, I knew I needed to do it. I printed off two and filled it out immediately. However, I only filled it up to #4. As the days progressed I kept thinking of projects that have been on my mind and now I am up to #7. You don't have to do ten, but I am keeping my optimism on high so I can feel a sense of accomplishment. Ian happened to see my list and the very first thing on there was to refinish two old church chairs and a dresser (that was given to us). We had been talking about it forever, but I felt it made it more official when it's written on paper. Ian, being the fab husband that he is (most of the time) knew that I was in need of some sense of accomplishment lately and packed us up in the car that night. We headed to the closest hardware store and he stocked up on all the necessary items. Let me tell you, refinishing is not as cheap as everyone makes it out to be! However, he did have to buy some "tools" to make the job easier and that we can use for future use. He even treated to Chick-fil-a (shout out, Stephanie!)!
My optimism can sometimes be misinterpreted for unrealistic expectations. I truly thought we could hack out all three items and have them done by the evening. Uh, it took us two hours to refinish one chair. So, needless to say, my summer projects list is in fact a work in progress…but, aren't most lists? Sometimes I get into the mind set that if it's on the list, it can be done right then and there. There is that optimism peeking through again!
So here are our two chairs…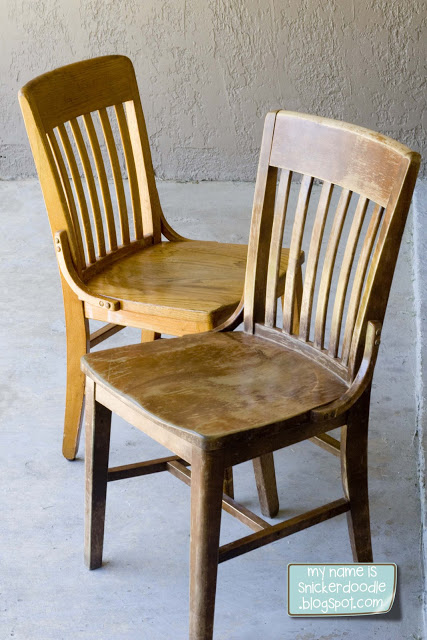 Can you guess what we are staining them?

Liam wanted to help…supervising that is! He stood in the corner most of time and wore his mask. He did have to take a mandatory labor break for his afternoon nap.