Friday night proved to start our summer off right. Ian and I went out for Chinese food and a movie. The Chinese food could have been a bit better, but the movie was FANTASTIC! Don't judge me…we saw Star Trek. I grew up with my parents watching it on TV so I am familiar with characters and plots, but by no means is it anywhere near my favorite genre. Ian, on the other hand, is a sci-fi nerd and I love him the more for it! He had already seen it with his brothers, but was wanting to see it another time in the theater. I cried (probably because I am hormonal), laughed, panicked and was jumpy. Sounds like torture, but it was such a fantastic movie!
Saturday we were invited to a friends house that we haven't seen in years. They made their very own water park in the backyard…complete with a huge water slide. More pictures to come, but Liam sure did enjoy himself…in the kiddie pool. He only went down the slide a couple times, but the little pool was more his style. This picture pretty much sums it up. It cracks me up!!!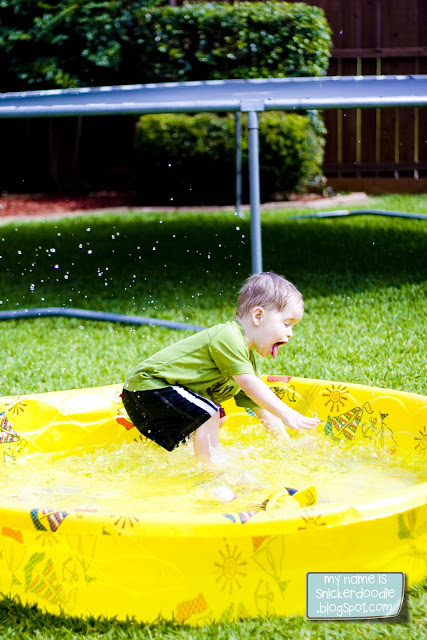 Sunday after church we went to a friends house for a delicious roast dinner and just plain hanging out.
My June calendar is slowing being filled up with fun activities…Summer isn't my favorite time of year, but it sure can be fun!
***DON'T FORGET! You still have until tonight to enter my little summer giveaway below!