…or the zebra by the reins! I am so glad that I captured this picture, but it's not the one that I wanted. We were just playing in his room when he put the bucket on his head and got on the zebra. That's when I went to go get the camera and of course he followed me. This is adorable, though!!! He is getting so busy lately. Every time I am on the phone if I look behind me (because I like to walk around and get a few things done) he is right behind me holding up any one of the million tv remotes we have to is ear and talking "into" it. He will do it the whole time I am on the phone. The little stinker even knows how to turn my cell on. Yesterday I was in the kitchen and noticed that he had it up to his ear just standing there. I didn't pay any mind and then he started talking. I looked to see what he had pushed and he totally called my mom! She said it made her day. Sometimes I think my kid is genius…but who doesn't think their kids are too!
Along with riding wild zebras during the daytime, Liam loves to tame ravage lions. I took this picture for my dad. He bought
this Lion for Liam right before Christmas. It scared all us adults when we first saw it because he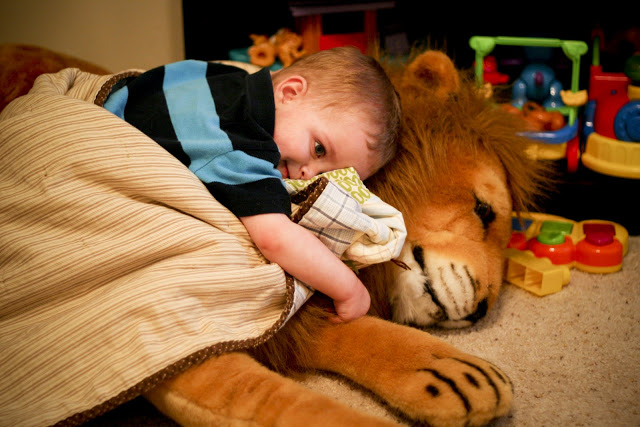 placed it just so by the Christmas tree. I was afraid that Liam would be scared, but when he first saw it, he petted the main and just started laughing. It was so fun to watch him with it and he still loves to love on it.
Okay, here are a few questions that I have been needing to answer for a while now. Alayne asked me this forever ago so I haven't ignored you. First, I do my embroidery on simple muslin you can find at your fabric store. They have a couple different kinds that are dyed differently, but I like the lighter version. I am actually frantically working on trying to get a 4th of July one done before next Friday. I started it back in April, but put it off a little too long. Ian teases me that I might have it done by next Independence day. And the other question is about the cake plate in the entry below. It's the one that I bought back in March at Tai Pan Trading Company. It's big enough for a 6″ cake and perfect size for cookies, muffins and brownies. I love it! I think the best part about it that is was only $10!
Thanks so much for all of you who do read my blog. I always appreciate your kind comments and thoughts. You are awesome!!! I wanted to give a shout to my new friend, Colette and her girls. I just met her through our church and I absolutely love her. You crack me up!