Thanks to Jacqueline for introducing me to this song! It's a new favorite and very Midnight Sun!
So, my new BFF, Lori, came up with a genius idea. We don't have the luxury of having seat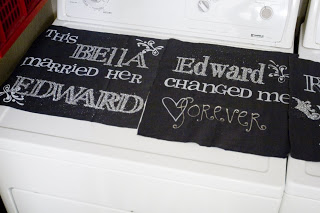 assignments for the movie, but we do have our tickets. Unfortunately we will still have to que up a while before the movie starts or else we will be the poor souls sitting front and center with movie screen headaches. Being the genius I am (yeah right) I thought of bringing camping chairs so at least we could be a little bit more comfortable while waiting. Lori mentioned that we should totally decorate our chairs to show our team (Cullen) spirit! We went through a couple of ideas, but this was the best one without totally destroying our chairs and spending too much money. (They were still drying so I couldn't completely shake off the exess glitter.) We are going to pin them to the back of our chairs and then add some fun ribbon and trim. Mine says,"This Bella married her Edward" a shout out to my wonderful Ian. Lori's is,"Edward changed me forever." We made two more for her sister-in-laws. It's an inside joke that she teases Stephanie about Charlie so her's says,"Renee was an Idiot" and Regina's says,"Runs with vampires". I am so excited about his whole event! I agree with Susan that this might be overhyped and become the dumbest movie ever. HOWEVER, I will love it reguardless because it's Twilight. I also think that we just need to see the movie for what it is and try our hardest to not compare it to th book…AT ALL!