Since the beginning of the year we have been toying with the idea to turn Liam's crib into a toddler bed. He had learned how to get up to the top of the railing and just lay there with his feet dangling, but he would never go the full way. The other day I was watching my 3 year old nephew and all of a sudden I hear both of them jumping in Liam's bed. He showed him how to climb into his crib! Ever since then, Liam was constantly climbing in and playing. But then he would get 'stuck' at the top trying to climb out and call for help. On Thursday, I put him down for his nap and 10 minutes later, I heard him playing with his blocks. I open up the door and he greets me with a smiley "hello"! I put him back in his crib and he finally fell asleep. 3 hours later (yes, I am extremely grateful that he usually takes such long naps) I heard him again playing with his blocks. He had finally figured out how to climb down. That night Ian turned the bed into a 'little' big boy bed. Liam was ecstatic that he could get in and out like a big boy! I, like a blubbering idiot, was crying because he was no longer a baby…my baby. Let's just say…baby hunger really set in after that!
He will bring us his pillow now and look so proud when he says "pillow" and then laugh. It cracks us up. I am currently trying to find some fabric that speaks to me so I can make some new bedding. Any excuse to buy some fabric, right?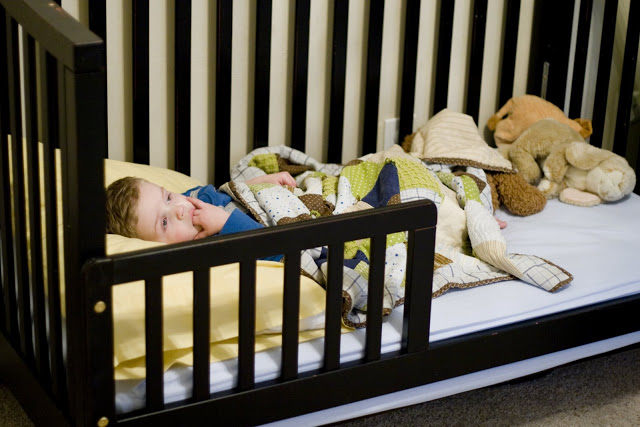 And onto a completely different note, the next time you go to Cheesecake Factory, this Wild Blueberry Cheesecake with White Chocolate Truffle is to die for! It has this blueberry shortbread type crust that is so good! My friend, Lori, was more than willing to take the 25 minute drive with me to pick up some delicious goodness and bring it back home. I love those type of friends! Willing to go out of their way for something great!