At the beginning of summer we were invited by some friends to join them for a weekend jaunt down to San Antonio. Ian and I have been wanting to since we moved back so we though it would be the perfect time and perfect company. The Jackson's planned out Friday and we planned Saturday.
Early Friday we were on the road and our first destination was Enchanted Springs Ranch. I was a little leary at first because we were going to spend 4 1/2 hours in the middle of nowhere (we couldn't check into our hotel until 3pm). I was completely surprised when it was time to go because it seemed like we had just arrived. It was pleasantly fun and Liam had a blast. (I was a little lazy and didn't want to edit all of the pictures so here you go anyways…)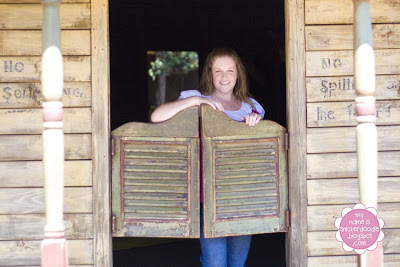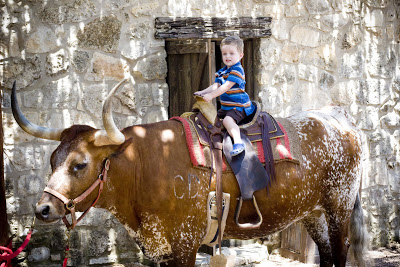 Liam's favorite part was getting to sit on Woodrow…yes, he is a live steer! Much, much calmer than a bull because, well…he's not a complete man…if you know what I mean. Ever time we would walk by Woodrow, Liam would point and say, "I want cow, please." They became best buds.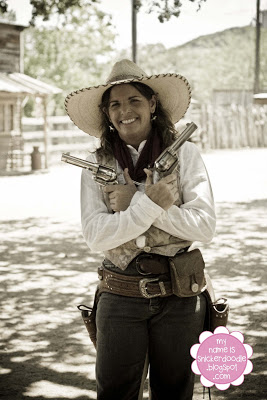 This here is Pistol Packin' Paula. She had the main attraction show during the day. She twirled real guns and cracked some bull whips. It doesn't sound like much, but it was pretty amazing!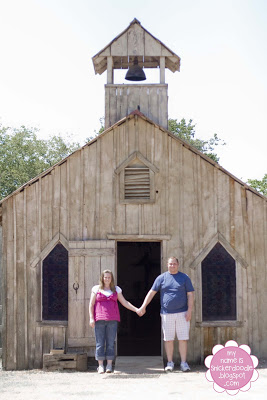 Someone was actually having a wedding at this little chapel the next day so we weren't allowed inside. Talk about theme wedding!
After lunch Ian arranged to have Alan arrested. Pistol Packin' Paula, acting Sherrif, rounded him up and put him in Jail. In order for him to get out he had to sing and do the actions to "I'm a Little Tea Pot". Hilarious!!!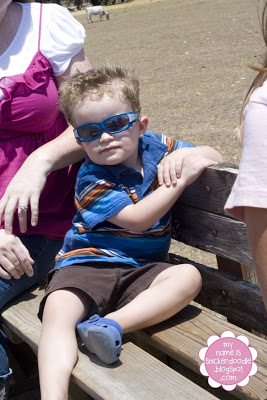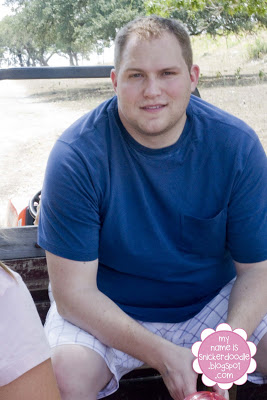 Towards the end of our stay we took a wagon ride through their wild life habitation. We had tried earlier during the day to take the ride, but we had only gotten 2 feet before the hitch came off the tractor and we were all taken for a 2 feet VERY bumpy ride. Liam loved seeing the cows and zebras. We were all boiling (a common theme throughout our whole trip) by this point and it was time to head out anyways.
Once at the hotel we let kids run around while we relaxed for a minute and got changed into non-sweaty clothes. Lorelie had planned for us to go to the Japanese gardens so off we went.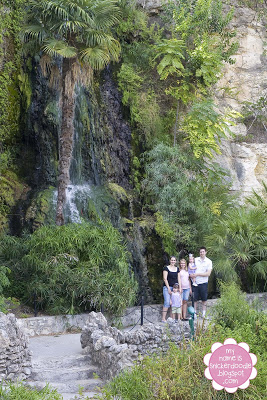 The fabulous Jackson family!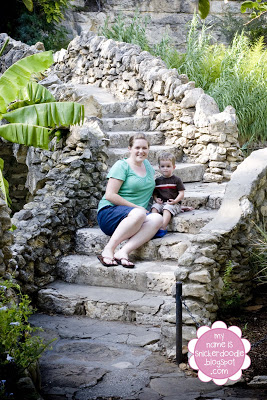 It was gorgeous there. But, it was too bad that we didn't get to enjoy it to the fullest. If you stood in one place for too long, you would start to melt. I was just wearing some little flip flops and my feet were burning!!! Lorelei had one more stop for us to make before dinner, but Ian and I opted to go back to the hotel to let Liam rest. His little 2 1/2 year old self couldn't contain is tantrums anymore. Who could blame him with only getting a 20 minute nap in the car.
We rested some more at the hotel before heading down to the San Antonio River Walk. Lorelei had planned everything so well…our hotel's back door opened right to the River Walk so we didn't have to go far. Being a Friday night, it was packed! We didn't take the camer because we knew it would be a hassle. We found a somewhat delicious Mexican restuarant to eat at and then headed back to finally end the day with some sleep.
Ian planned for us to drive a little more south and hit the beach. We tried to go as early as we could because we knew it would be boiling hot!!! The kids had the best time just playing in the water and sand.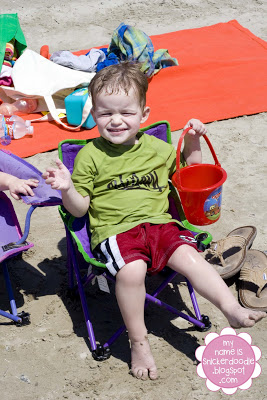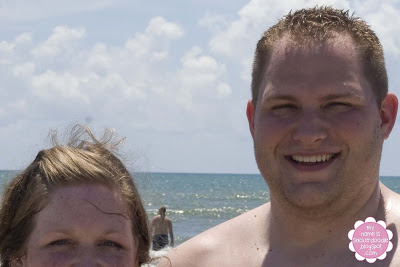 Ian said the only picture I could put of us on the beach was from his shoulders up so here you go!!!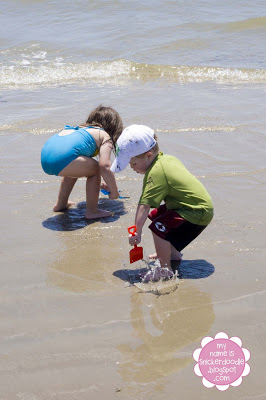 3 hours came and went. I got my walk on the beach with Ian. I have been wanting to do that our whole married lives. This was the first time we had ever been to the beach together. Ian got his sand castle builing in with Liam. Even though it turned into a game and Liam would just reck anything that was built. Such a boy!
We attempted to shower off and not get too much sand in the car. Liam was in his car seat for exactly on minute before he fell asleep. He played very hard all weekend long.
Ian and I planned to break up the 7 hour ride home by stopping at the outlet malls in San Marcos. We were down to our last dollars of our budget, but we did manage to come away with a shirt for me, 4 new adorable salad plates from Crate and Barrel and Crocs for Ian and Liam. I am still anti crocs, but what can you do?
We got home around 11:30 so not too bad. Even though we were sunburned and tired, we had a fantastic weekend!!!