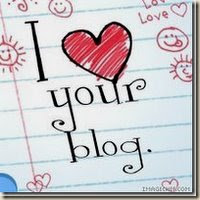 I have seen this fun gem floating around numerous blogs and thought it was fun! It became VERY fun when Susan AND Sara gave me the "I Love Your Blog" award. I am completely flattered! Thank you so much for that ladies!
Here is what you need to do if you have been chosen as a WINNER!!!
1. Pick 7 of your favorite blogs
2. Winners can put the logo on their blog.
3. Link the person who gave your award to your blog.
4. Name the 7 that you are giving the award to with their links.
5. Leave a message on their blogs so that they know they've won!
So since I was chosen twice, I kinda feel like I need to pick 14 winners…but that is practically my whole side bar so consider yourself all winners if you have link to the right! I know that I am coping out, but seriously, that is too much pressure for me!!!
Okay, all I have to say about the Twilight party is this…I DAZZLED myself with how much fun it was! I am working on the pictures so check back tomorrow for ALL of the fun details!