I am still trying to recover from Saturday's Twilight party! I can't even describe to you how much fun I had planning and participating in this. So let's just jump right in!
Let me just say, that I couldn't have had this party if it wasn't for Analee and Breeana. They threw the first Twilight party I went to and I had a blast! I got some of the party festivity ideas from them. To start off the weekend, my bestest friends Rachel and Jenn surprised me and flew out from Utah to come to this party! Rachel brought her little daughter Allie who, when she met Liam, totally "imprinted" on him. She could not leave him alone…it was ADORABLE! But more about that later. I really could have not accomplished all I wanted to do if it wasn't for them coming.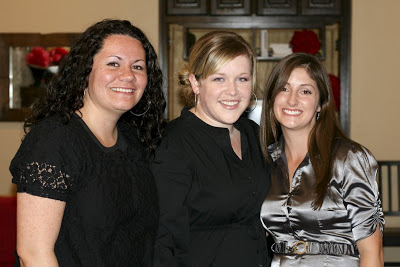 Saturday was completely crazy. Hurricane Ike's back lash storm was overhead so the rainy weather was totally appropriate for the theme. HOWEVER, I am sad that so many people down south have been evacuated from there homes. I started getting calls through out the day of people not being able to come and some totally wanting to be invited to the party. Have you ever watched those reality shows where it's the girl's 16th birthday bash and she is getting calls from friends of friends of friends who want to come? I felt like I should have had a bouncer at the door with a guest list! It was great! Even with people canceling, I had 34 people coming (with 25 that actually came).
The party was at my friend's Becky beautiful home because I could maybe have fit 7 guests in mine. She let us come over earlier in the day to set up which didn't take us long since I tried to make the decorations minimal. Just the same tissue paper pom poms that I did for Liam's 1st birthday party. Totally fun. When planning my party I googled other Twilight parties and found only two and they had the same pom poms from Martha Stewart. One of those blogs had adorable apple votives that I couldn't resist doing myself. (I hope she doesn't mind me linking to her blog!) I just added some black toole to everything and called it good. Next time I am going to have forks everywhere!!!
I had really wanted to give a party favor and decided on a homemade bookmark and a mix CD of some of the songs from Stephanie Meyers playlist and some songs that I thought were too good not to add. I also made little sleeves for them.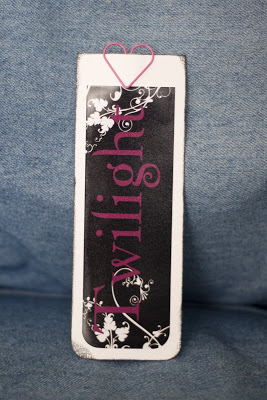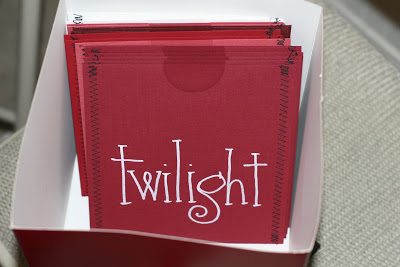 Twilight Songs
See You Again-Miley Cyrus
The Little Things-Colbie Caillat
For You I Will-Teddy Geiger
Clair de Lune-Debussy
Kiss Me- Sixpence None the Richer
Just the Girl-The Click Five
Oh, It Is Love-Hellogoodbye
New Moon Songs
Over My Head-The Fray
Hungry Like The Wolf-Duran Duran
Not The One-Collective Soul
Vindicated-Dashboard Confessionals
Eclipse Songs
Mr. Brightside-The Killers
Never Tear Us Apart-INXS
Believe in Me-Rooney
Breaking Dawn Songs
This Is Home-Switchfoot
Let Me Take You There-Plain White T's
Safe-Travis
Maybe I will do a RAK later on because I have a few left over!!!
I also COULD NOT have done this party with out others as well. First of all, Ian. He was the one that suggested that I should have the party and came up with the cool RSVP email and some other fun details. Also for Lori who is simply just fabulous. I asked her to do the trivia game and she came up with the 8th wonder of the world. And she helped me with the CD's. Becky for opening her home and making wonderful food. And for Loralee, Amory and Colette for bringing delicious food as well!
And if all that wasn't enough…the BEST part about the whole party is that Edward and Jacob decided to leave their women at home and join us!!!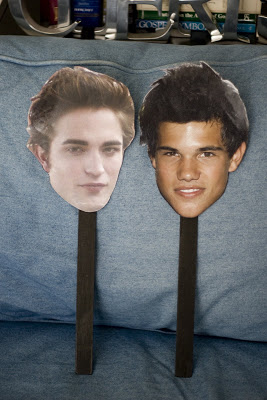 Seriously, this was my absolute favorite part about this whole party!!! I had really hoped they made life size cardboard cutouts of the characters, but I am sure those will come out closer to the premier of the movie. So I decided to do my own thing and make just their heads. They were the hit of the party! I am so taking them to the movie with me as my dates!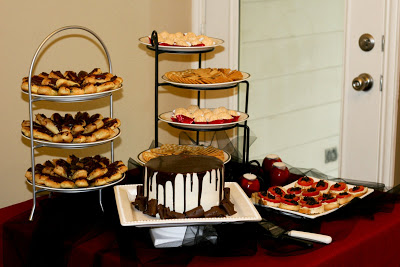 Some of the fabulous food and Bella's birthday cake…I totally forgot to take a picture the other half of the buffet!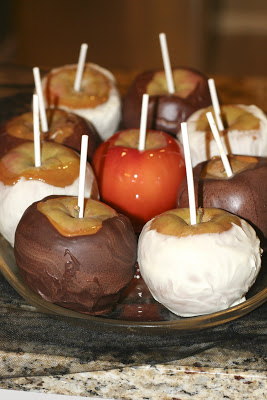 Becky's delicious themed apples!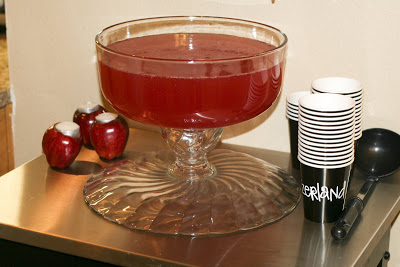 Our "blood" red punch of course!
I got these cups at Walmart and had to jazz them up. All of them had some sort of Twilight-ness added to them.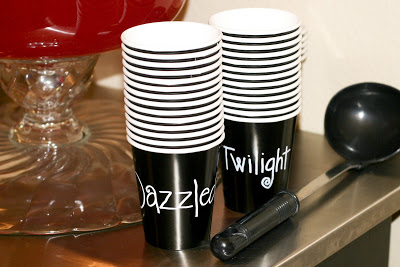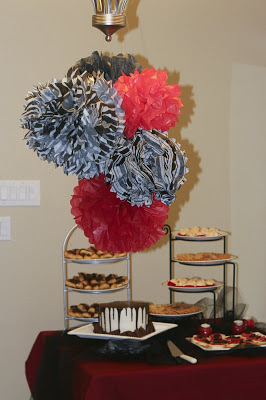 Some of the pom poms!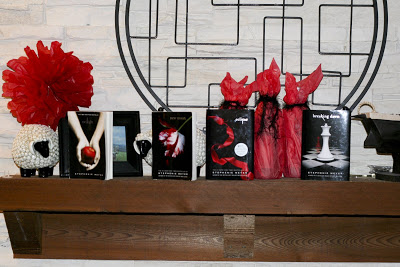 Of course we had to have the books on display! Those bottles in the back were some of the prizes for one of the games. We found them at Target…Archer Farms BLOOD Orange sparkling juice! Perfect!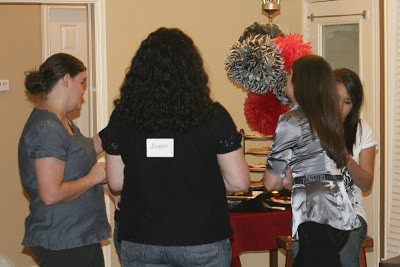 To mingle I put character names on everyone's back to have them guess who they were.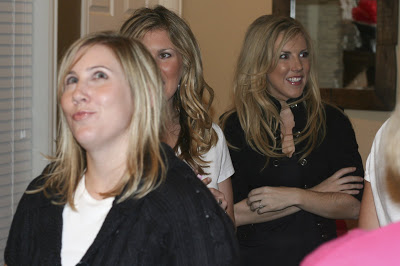 More guessing and mingling.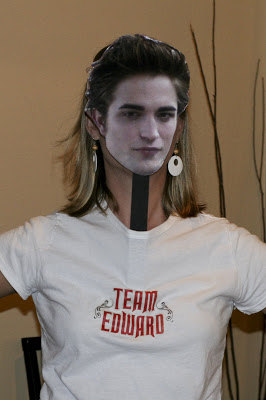 Hilarious fun with our honored guests!!!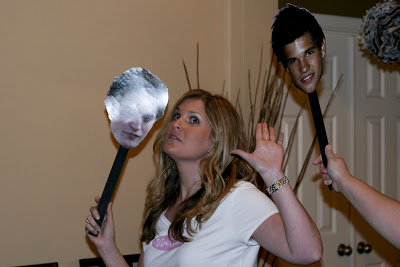 Bella…I mean Lori.

Then the famous Candy Bar game. When I went to my first twilight party Ian's aunt Ann made this and it was my favorite! I changed and added a few of my own. If you would like to know the game just email me!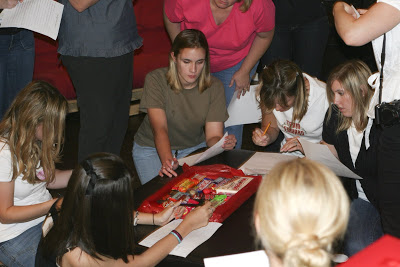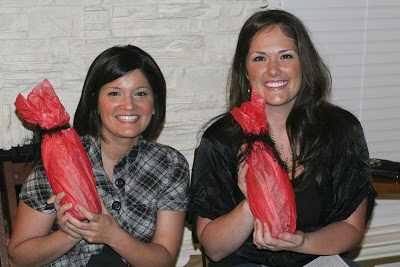 The winners!!!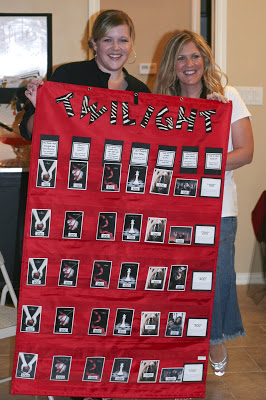 Lori was a genius when she came up with this. We had gotten some of the questions from another party, but then she went all out and made it super! We had the Cullen Team and the Black Team.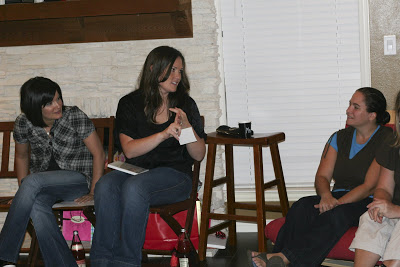 Most everyone really got into the game….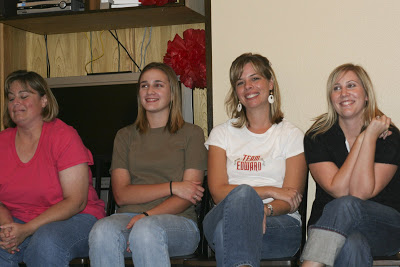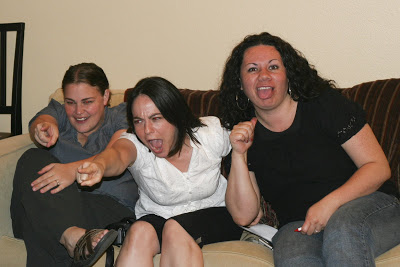 Really into the game!!!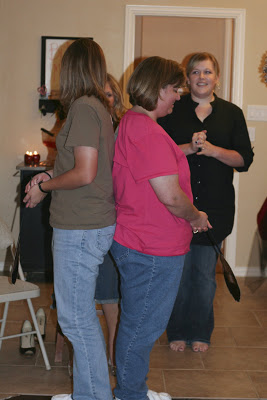 There was a small discrepency so we settled it with a mother and daughter stand off. I had them use "the heads" as their game pieces.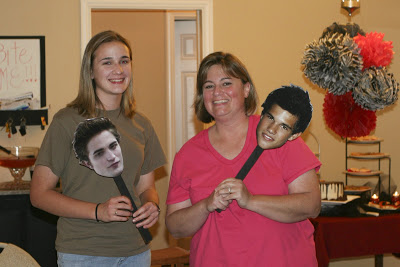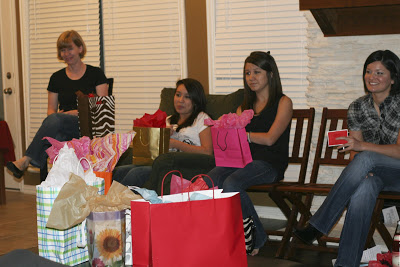 After the games we opened presents and cut the cake. Some gifts where Twilight realated. I gave the Cosmo Girl magazine with the small article, but hot pictures of Kellan Lutz, Robert Pattinson and Taylor Lautner. Someone actually brought a toy Yellow Porche!!!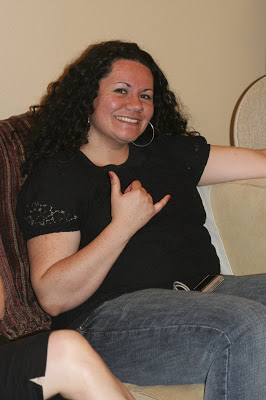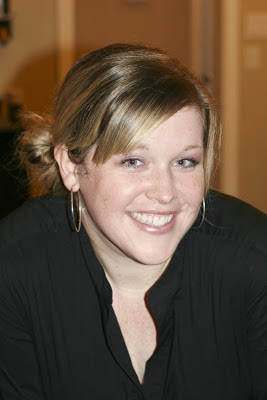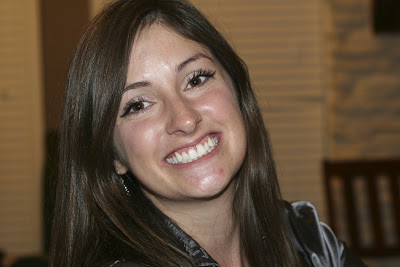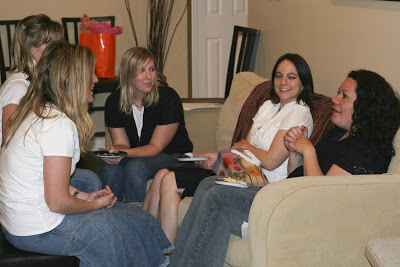 We just mingled, ate more food and talked Twilight.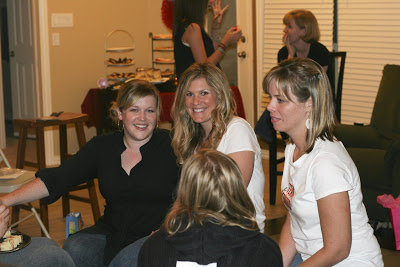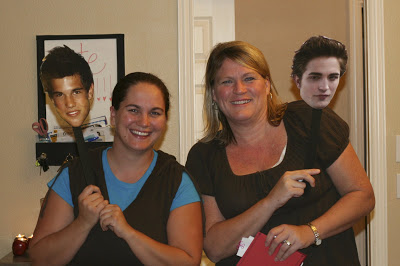 Krista and Colette with "the heads"!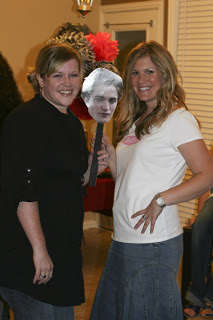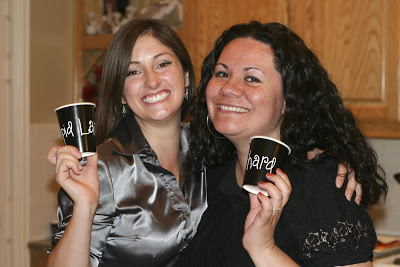 I wish I could have gotten plastic cups for everyone to take home, but these were fun anyways!!!
This was a fabulous night! I am so excited that so many people showed up and seemed to have as much fun as I did. These books have made me such wonderful friends so I love them even more. Everyone needs to have a Twilight party!!!