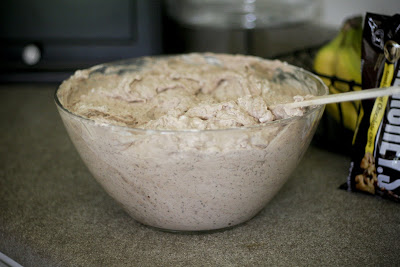 We had a great and relaxing holiday weekend. Well, if you can call playing major rounds of Wii Sports and Mario Kart relaxing! My arm is still killing me from tennis.
Saturday I wanted to make some chocolate rice pudding. Remember how I was raving about Pudding On The Rice and that I love there chocolate and peanutbutter rice pudding? Well, I found their recipe online. So if you are ever in Utah valley, you must stop on in. If you are not (like most of you) not in that neighborhood I will give you the recipe.
Now, I was so excited to make this that I was totally not paying attention to the portions it was requiring. As I was making it, it just kept growing and growing! Luckily we had company over for Sunday dinner and then I took most of it over for our Memorial Day party. Even after 13 grown adults had healthy portions of this goodness, I still have a container of it in my fridge this morning.
So here is the recipe…that I have cut in half so you don't have rice pudding flowing out of your refridgerator!
Rice Pudding
4 cups of milk
2 cups cooked medium grain rice (I had jasmine rice on hand and it worked well. Just as long as it is not instant, I think anything will work)
2 cups sugar
1 tsp. salt
1 egg
2 cups heavy whipping cream
1 tsp. pure vanilla extract
In a large sauce pan stir together the first 4 ingredients over medium heat. In a seperate bowl crack 1 egg and let sit at room temperature. Set aside. Stir rice mixture slowly with large wooden spoon for 45-60 minutes until it has thickened evenly.
Take pan off the heat. Take the egg and whisk throughly adding 3 TBSP of mixture (one at a time) to tempure the egg. Slowly incorporate the egg back in to the pudding. Return the pudding to medium heat and slowyly stir as you bring the pudding back to a boil.
Put pudding in glass bowl and cover with saran wrap and cool in refrigerator for 6-24 hours.
Whip 2 cups of cream and vanilla until light and fluffy. Add whipped cream to pudding until well mixed.
***Flavors***
Chocolate
Microwave 1/2 cup milk chocolate chips with 1/4 cup heavy cream until melted. About 1 minute total. Add into cooled pudding BEFORE adding whipping cream mixture. Stir until shiny. Then add in whipping cream. I sprinkled more chocolate chips on top!
Raspberry
Add a bag of frozen raspberries and mix into pudding fully incorporated. Then add in whipping cream.
Peanut Butter
Since there was not a recipe for peanut butter, I am guessing here. I wasn't thinking when I was making it to divide my recipe and make half chocolate/half peanut butter, but I think this would work well.
Microwave 3/4 cup peanut butter with 1/4 milk until melted. About 1-2 minutes. Stir into cooled pudding mixture. Then add in whipping cream.
I really hope that you try this. I was not a fan of rice pudding at all, but when you add chocolate to it, it becomes a whole new thing. I also made some other scrumptious things over the last couple of days, but I will share those recipes later. I hope you all had a wonderful holiday. I know we enjoyed ours!