kick off the year with the best of starts! I keep telling myself that it's not a foreshadow for the rest of the year…it really isn't! With all of us having our own sicky-ness, we are finally pulling through it all.
Kinda.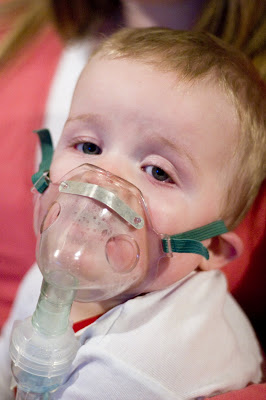 Liam woke up this morning with a slight fever, cough and a very goopy eye. And he is extremely grumpy which is not his personality at all. That is when I really know that he doesn't feel well at all. I love winter. The snow (which has come down so much we no longer can see the porch), the feeling of the holidays, and just the pure white calmness that I feel. I get really bugged when people hate winter. HOWEVER…it needs to go away soon so spring can bring some better weather in. We need to not be sick anymore!!! We know of so many families that are sick with something that we are scared to go out anymore…which I am sure is part of the problem! So either go out and catch something, or stay in and help fester what you already have…which would you choose? *This picture was taken when we gave Liam breathing treatments for his RSV* So sad, but what a trooper!
Anyways, I have some great news! My cousin Susan had her baby a couple of days ago and all went very well. He is adorable! I wish that I could hold him, but we live too far away. And my best friend, Rachel, is due in just a couple of weeks so we are all just waiting by the phone for that call. Her due date is a day after my original due date, so it's fun to see her and remember that I was in her shoes this time last year!