We kicked it off a little early.
ThUrSdAy…
*Went to Olive Garden. I had watched a friend's kids early that week and I refused to let her pay me. So, she got around that and gave us a gift certificate. I was definitely not in the mood to clean up dinner dishes so we took advantage of that quick.
*Found out we are finally getting pictures taken of our family by a professional other than Ian. Actually, I can't remember the last time we had Ian take our pictures because it's too much of a pain…and in pain I mean that I try to boss him around, tell (yell at) him what I want, he tries to be patient then gives up because he is too tired trying to run back and forth setting the timer, and by that time is too sweaty to look great in the pictures!!! Ian has made arrangements with Kelli and I am extremely excited! She will be in town in a couple of weeks from now I am also extremely stressed trying to figure out wardrobe and hair for everyone!
*Heard about a great deal at Target. Through coupons (which I am sure you are so tired of hearing about) I got 6 steaks for $2.22. I was so thrilled to get good meat for so cheap!
FrIdAy
*Watched more kiddos for a couple in our ward who was in need of a spiritual date night! They had watched Liam a couple of weeks ago, while Ian and I got our spiritual date night and headed to the Dallas Temple.
*Made myself more nerdy. I have mentioned it a couple times, when in hind site, I probably shouldn't, I love Lord of the Rings. Well, I indulged myself by listening to the commentary on the first and second movie. I had started it on Thursday and still have a bit more to listen to on the second one. It makes me giddy to think I still have one more movie to go. What's funny is that I was the one who bought the dvds when they came out years ago, not Ian. They are my dvds, not Ian's. I LOVE IT! I figure I watched them about every 6 months. In between that I am reading the Twilight series!
*Had a completely clean house ready for the weekend! That of course did not last long.
SaTuRdAy
*Went out with Lori for a lunch date. My wonderful friend calls herself a foodie. Her skinny mini self definitely has an appreciation for food! Ian and I have introduced her to Pappasito's fajitas and to Railhead BBQ. Her favorite part about it is that it was greasy! So I had to introduce her to the oh so fabulous burgers at Central Market. It's always great to catch up with great friends while eating great food!
*Reduced my stress. Lori took me to a fun clothing shop by her house to begin looking for something fun to wear in our pictures. Ian was already decided what he wanted to wear and I didn't feel like I currently owned anything I wanted a picture taken in…really, any excuse to buy something new, right? I found a fantastic short jacket that I love and that Lori had previously boughten for herself a few weeks before.
*Bought some more of my quilt material. While Liam was napping…and let's face it, Ian, too…I hopped over to my fav quilt shop to purchase some more material for the back of my quilt I am making. I am doing kinda of a two quilts in one. I am sure I am breaking some quilt code, but since I really don't consider myself a "real" quilter I guess it doesn't matter. You could just eat these fabrics they are so yummy! The odd man out is actually one of Ian's old dress shirts that I thought was too fun not to add it in the bunch.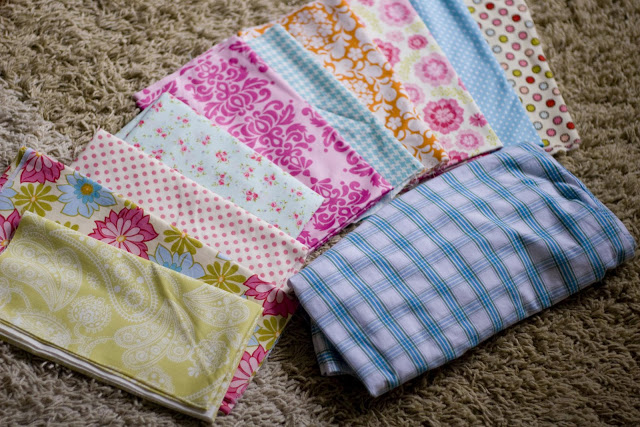 *Played miniature golf and stayed up way too late. The same couple that we watched their kids on Friday wanted to go on another date. The invited us to come along on it! We did it late enough to where kids could be in bed before the baby sitter came over. After a rousing game of mini golf (that took about 30 minutes to play) we were out of ideas of what to do next. We did not want to turn in at 9 pm! Remember when you were younger and the night didn't even seem long enough to do all that you wanted to? We stopped off at Sonic and practially ordered one of everything so we could all share and then headed over here to our house to play games. The guys really wanted to watch a movie, but we suckered them into playing Taboo and Tip Of The Tongue with us (and no it's not a dirty game!!!) I was totally duped when I found out close to midnight that the time was changing! I really hate loosing a precious hour of sleep and life.
SuNdAy
*Went to church. I felt like I was go go go the entire time trying to do multiple things, but it was great to get them done!
*Made ice cream sandwhiches. Chocolate chip cookie with vanilla ice cream and peanut butter cookies with strawberrie ice cream…all of which I brought to the following…
*Celebrated my mother in law's birthday. My SIL planned and intimate family dinner with just the siblings and their families to wish her a happy birthday. And of course we stayed too late laughing and sharing memories. It's so nice to have a non-drama family get together!
So now it's Monday and I have the I-was-on-full-speed-the-whole-weekend-and-now-I-am-too-tired-to-clean-my-house blues. But it was all worth it!