Well, I scrapbooked. Not at much as I would have liked, but I now realize that things change more than you think when you have a (extremely adorable) child. I was also busy baking and making soup so that took up some of my layout time. I will post them when I get them scanned it. This doing a layout a day is really working for me. Now back to the yummy food! I made this delicious soup and the family loved it!
Minestrone Soup
Ingredients:
3 tablespoons olive oil
1 cup white onions, minced
1/2 cup zucchini
1/2 cup frozen green beans, Italian-cut
1/4 cup celery, minced
4 teaspoons garlic, minced
4 cups vegetable broth
30 ounces canned red kidney beans, drained
30 ounces canned white beans, drained
14 ounces diced tomatoes, canned
1/2 cup carrots, julienned or shredded
2 tablespoons fresh parsley, minced
1 1/2 teaspoons dried oregano
1 1/2 teaspoons salt
1/2 teaspoon ground pepper
1/2 teaspoon dried basil
1/4 teaspoon dried thyme
3 cups hot water
4 cups fresh spinach, small leaves
1/2 cup shell pasta
Directions:
1. Heat three tablespoons of olive oil over medium heat in a large soup pot.
2. Saute onion, celery, garlic, green beans, and zucchini in the oil for 5 minutes or until onions begin to turn translucent.
3. Add vegetable broth to pot, plus drained tomatoes, beans, carrot, hot water, and spices.
4. Bring soup to a boil, then reduce heat and allow to simmer for 20 minutes.
5. Add spinach leaves and pasta and cook for an additional 20 minutes or until desired consistency. Makes about eight 1 1/2 cup servings
It was perfect soup weather this weekend! We also were having dinner with friends last night so I whipped up some of those yummy peanut butter cookies that are so easy and cupcakes. I had Ian take a picture of them so I would have something to blog about this morning! Blog nerd, I know. I actually decided to make the cupcakes so I would have an excuse to use my cupcake holder that I bought a while ago. So FUN!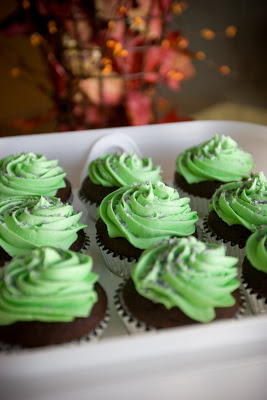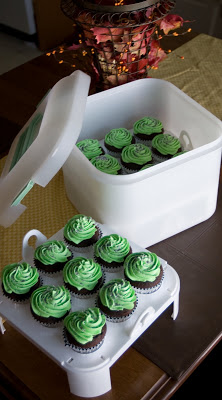 I should have made the frosting orange, but I was totally in a green mood yesterday.
Jumping back to Saturday, my mom and I went fall decoration shopping for her. We spent almost 2 hours at two different stores and found some really cute stuff. A fun wood/vinyl plaque that said, "Grandma and Grandpa's Bed and Breakfast. Kids eat free", a "BOO" metal/wood sign, pumpkin plate, plate hanger for the wall, and some other great items. She bought me an adorable wire basket that I had been eyeing every time we passed it. We updated some of her decorations, which was much needed! Thanks mom for the great time!