Yesterday Ian got home early from work. He brought me a surprise!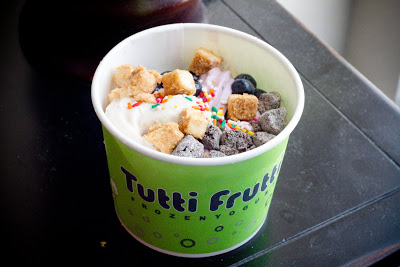 This, my dear ones, is a fabulous little treat from Tutti Frutti. I have always wanted to go in and see what exactly went on whenever I've driven by, but either never had the time or…the time. Ian said that when he walked in he walked into Amy's little dream heaven. It's a make-it-yourself frozen yogurt buffet of goodness! Rows of toppings and all of the frozen yogurt you could think of. This "masterpiece" is made up of cheesecake yogurt, blueberry yogurt, with a little peanut butter yogurt on the side…topped with fresh blueberries, cheesecake bites, brownie bites and then Ian went the extra mile and put sprinkles on it because he knows they make me smile. Man, do I love that man! It was divine and I cannot wait to go there myself. I have a feeling that Liam feels the same way…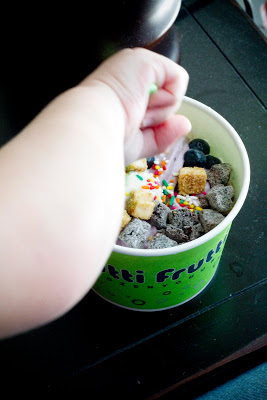 (and yes, I know that I need to dust a little more often!)
To make the night even better, Ian got down Liam's baby clothes totes so that I could go through and assess what we need for this next little one. Liam was having a hay day trying on everything he could get over his head. This ensemble is a 3-6 month sweater vest layered with a 0-3 month long sleeve white dress shirt.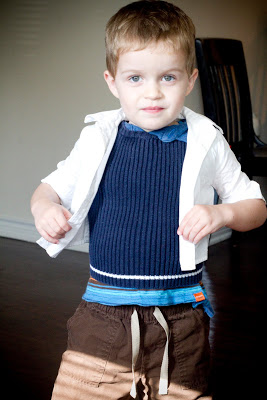 He was taking himself pretty seriously until I was crying I was laughing so hard…he decided to ham it up a bit and started to act goofy.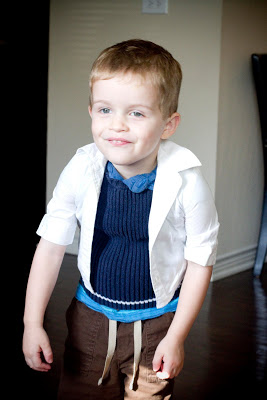 Later on he put all the bibs on…and I mean all of them layered on top of each other. I love him.