when you actually clean out stuff! I was organizing our storage room and came across a box of old material that I have hoarded over the years. I found this little gem! All growing up I was a superman/supergirl fan. I actually have a picture (somewhere in all those boxes) of my cousin Taylor and I playing said heroes when were were about 3 years. We had tied around our necks and our socks pulled over our sweat pants as our very cool secret identities. I have a superman and supergirl beanie babies, supergirl Barbie doll and other fun items. When I was on my mission my mom found this baby costume on sale and just had to buy it…knowing someday that I would have kids, but who would have ever thought I would have boys! Lucky me! I found it just in the knick of time because he barely fits into it. Too bad he will be too big for it when Halloween comes around. So what do Ian and I do best…impromptu photo shoots! We took him out a couple of weeks ago and shot these. They would have been better if Ian would have taken them, but my baby is getting so big that I couldn't hold him up high for very long. (By the way, we have ever 5,000 pictures of our little Liam and he isn't even 7 months yet…!)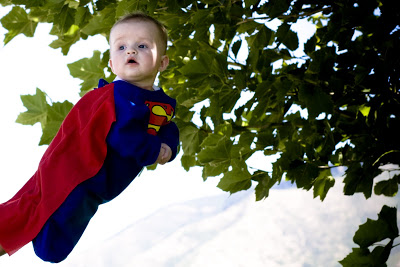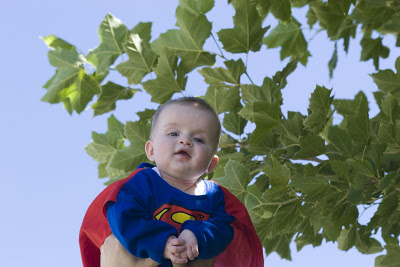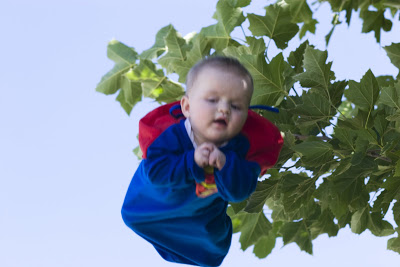 We tried to get an action shot…he didn't mind at all that Ian was throwing him up over and over again…he just smiled and threw up after we were done!
***By the way…about that fun news that I have that I am dying to share…the website should be up shortly and then I will be able to spill the beans!