This is a rice bag.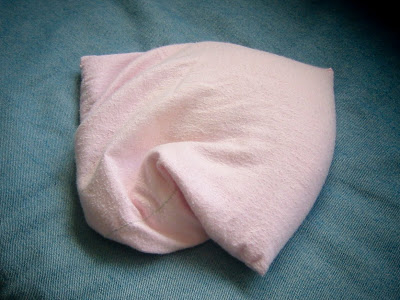 One of winter's few necessities…along with gloves, scarves, snuggies and hot chocolate! A few years ago, my aunt from Montana was visiting for Thanksgiving and I noticed she kept putting this weird square of heavy filled fleece into the microwave. The rice bag! She said she loved to heat it up right before she had to leave for work and would have it in her lap while driving through the wintery snow. That was the winter that changed the way I went to bed and snuggled on the couch. I love to be cold for the most part, but I absolutely DETEST getting into a freezing cold bed in the winter. This is my solution and Ian is really good about heating it up for me (while I am getting ready to go to bed) and slips it under my covers for me when I am not looking. You all need one…TODAY! All you need is some sort of cotton material. Fleece, flannel, or just regular cotton, thread and rice.
Cut two squares of fabric 11 x 11 inches.
With right sides together, sew all sides, leaving a 3 inch opening so you can fill with rice.
Trim your corners and turn right side out.
Fill bag with about 5-7 cups of long grain white rice. The cheapie stuff. (You don't want it to be too full or else it's uncomfortable to use.)
Stitch up your opening. (Make sure you use a small stitch all the way around so no rice slips out.)
Pop it into the microwave on a clean plate and heat for 2-4 minutes. I like mine really hot so start off with 2 minutes and work your way up.
Enjoy!