It's been a couple of days since I last blogged…I was on a blog roll there for a while so the bloggity guilt set in this morning!
So let's kethcup, shall we?
***Friday Liam had his first sleep over party. We watched our niece and nephew while their parents went on a date. It was so fun to have them over! Liam followed them around and kept up pretty well. I found this coloring book site that kept the kids busy. It has a ton of different themes that you can print off one page at a time. I totally thought of you, Rachel! The next morning we let the kids have powdered doughnuts for breakfast and Liam ate his first one…well he ended up eating 5, but don't tell anyone! Ian captured a ton of pictures of this messy face.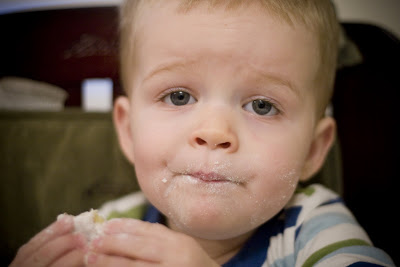 ***Saturday night we went to a wedding reception of one of our great friends. We knew him when he was 15 so it's great/weird to see him as a man and a married man at that. We love his family so much that if we weren't in our 30's we would love to be adopted in. They were one of the reason's it wasn't hard to move back here!
***Mother's Day was great! Ian got me the book "The Host" by Stephanie Meyer…well, I bought it myself on Friday (because I couldn't resist) and so it was "from" Ian! More about the book later. He did get me these fun boxes from The Container Store which I absolutely love!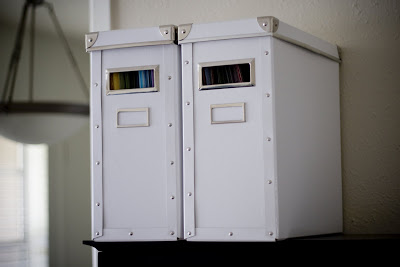 I have been looking for some new scrapbooking storage and really didn't know what I wanted. Ian always surprises me really knowing what I want and finding it for me. These are 14x14x8 boxes from a company called Bigso Boxes of Sweden. They have a ton of cool products. Ian let me relax all day long and completely took care of Liam. I wanted to take some pictures (because I don't nearly have enough…hardy, har, har) so we captured a few of these…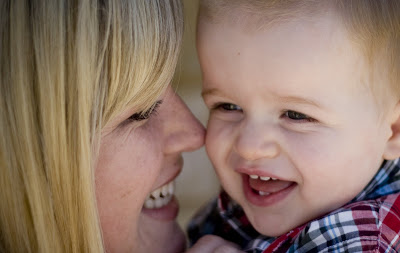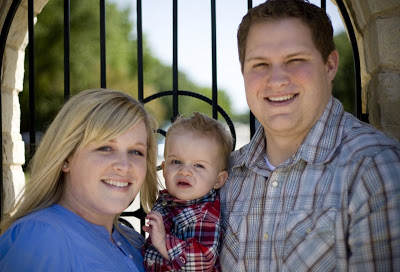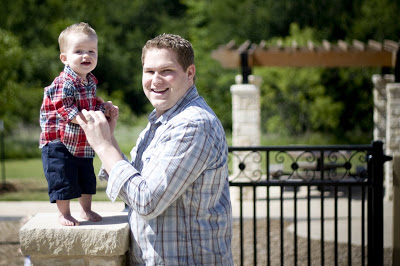 Later that night we went over to Amory's because they bought a Wii a couple of days before. Such a blast!
***We started this picture wall (a work in progress so this is not a finished product) over the weekend as well.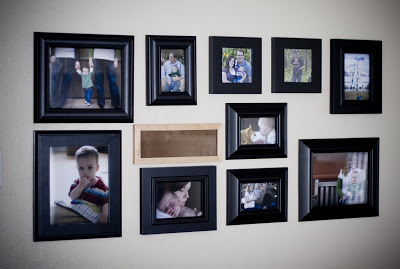 We got these frames at Michael's (all of them 40% off). I am going to paint that odd one black and scrapbook something inside. Something with our last name. We are also going to add a row of other frames that we have to the top. I love pictures.
***Speaking of pictures….these 10 pictures almost cost us 3 lost credit cards, my license, my cell phone, a sippy cup, fabulous Mentha Spearmint Lip Shine, two RedBox movies and 4 bucks cash. That is what was in my purse when Ian accidentally left it in the cart when unloading our other goods when we we picked up the pictures. I was in charge of putting Liam in the carseat and Ian's job was to (completely) empty out the cart into the trunk. We were 10 minutes away when he figured it out. Both of us had panic attacks when he pulled over to check the trunk to verify he was wrong. 7 (very long) minutes back to the store (he was driving well over the speed limit) in a stressful silence. He had put the cart in the return and it was completely empty of carts when we flipped into the parking lot. He parked and ran into the store. I waited impatiently in the car until I saw Ian walk out of the store with a purse and pictures in hand and a huge relieved smile on his face! The cart guy was loading them and saw our belongings so he turned them into customer service. Lots of prayers of gratitude were said in the seconds that it took to pull out of the parking lot, for a second time.
***I never mentioned what a genius my husband is. Well, at least I think so. Along with all of those letters that I was sorting through a while ago…I came across a whole shoe box full of cassette tapes that I had talked on while on my mission for the LDS church. They were basically audio letters that I had sent my parents. It was so fun to listen back and remember all the fun (and not so fun) times while in Canada. Cassettes tapes are a total joke now, but I couldn't give them up. Luckily our stereo (which we never use) had a cassette player so I listened to a few. Ian was not about to have me keep something that I won't even be able to use in the future…I mean…CD's are almost a thing of the past now. So he found a program online that allows you to transfer cassette tapes into MP3's!!! It's the coolest thing. So if any of you need this same project done…Ian is thinking about charging a small fee per tape and helping people out. Now I wished I would have kept all those mix tapes I made in high school. You know the ones…where you would always have a blank tape in the recorder and whenever a cool song would come on the radio you would rush over and push the record button…was I the only one????? Anyways, I love how Ian is always thinkin'!
***And one of the best things that I did on my own over the last couple of days is make this delicious hot fudge! I got it from my good friend Jamie so I hope she doesn't mind me sharing it. I had it probably a year ago, got the recipe from her and never made it, until now. OH MY WORD…who needs ice cream when you truly could just eat this with a spoon…which is what I did…shameful I know, but it was Mother's Day…I deserved it!
Jamie's Hot Fudge
3 TBSP cocoa (I had Ghirardelli which made it even that much better)
1 cup sugar
2/3 cup evaporated milk
1/2 cup butter
1 tsp vanilla
Stir together cocoa, sugar, milk and butter in a sauce pan. Bring to a boil and cook 4-5 minutes, stirring constantly. Add in vanilla.
Be patient and let it cool a while before licking that spoon clean. I didn't wait long enough!!!
***And last night we got to talk to my mom and dad with video chat over Skype. They could only see us because we have a web cam and their web cam wasn't compatible. All that mattered was that mom could see Liam. She was so excited. It didn't last too long because he was so ready for bed, but it was fun that she could see her only grandbaby!