I can't believe that I am only 1 more Friday away from 100 Fabulous Food Fridays! WOW!!! And I think I told you all that I was going to have a giveaway so I've got something in mind!
I knew that I wanted to share this recipe for Pumpkin Bars today, but I didn't get the recipe until last night and I've been gone all day today. They are baked and ready for a picture I am eating one right now, but all of the good light is gone for the day so I will update this post with a pic when I get it taken tomorrow. Sound good?
I got this recipe from my SIL who got it from her Aunt Kathleen who is a fabulous cook! I've had them a ton, but never got the recipe until now. I knew I wanted to post it because it was perfect for my pumpkin themed FFF! Like this recipe and this recipe.
Pumpkin Bars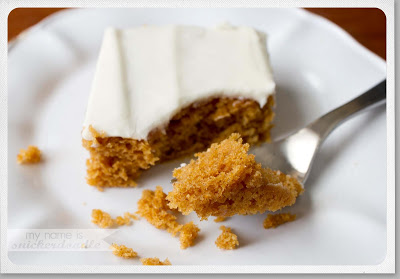 Printable Version
Pin It
Bars
4 eggs
2 cups sugar
1 cup vegetable oil
1 15 oz can pumpkin puree
1 tsp vanilla extract
2 cups all purpose flour
1 tsp baking soda
2 tsp baking powder
1/2 tsp salt
2 tsp cinnamon
Frosting
3-5oz cream cheese, softened
1 TBSP butter, softened
1/2 tsp vanilla extract
2 cups powdered sugar
2-4 TBSP milk
Preheat oven to 350°. Spray a cookie sheet with non-stick spray and set aside. In a large bowl, cream together, eggs, sugar, oil, pumpkin and vanilla until smooth. In a small bowl, whisk together flour, baking soda, baking powder, salt and cinnamon. Add to the wet mixture and combine until just incorporated. Do not over mix. Bake for 20-25 minutes.
Meanwhile, cream together cream cheese and butter until smooth. Add in vanilla and mix. Combine in powdered sugar. Stir in milk if you would like the frosting to be a little thinner.
Once cake has baked and cooled for 15 minutes spread on frosting.