I have a really hard time resisting any bread. Let me clarify…any right-out-of-the-oven, warm bread that I can slather in butter! AND the smell of baking bread just brings happiness to my home. I wonder what it is that makes it so comforting. Whatever it is, I sure do enjoy baking it!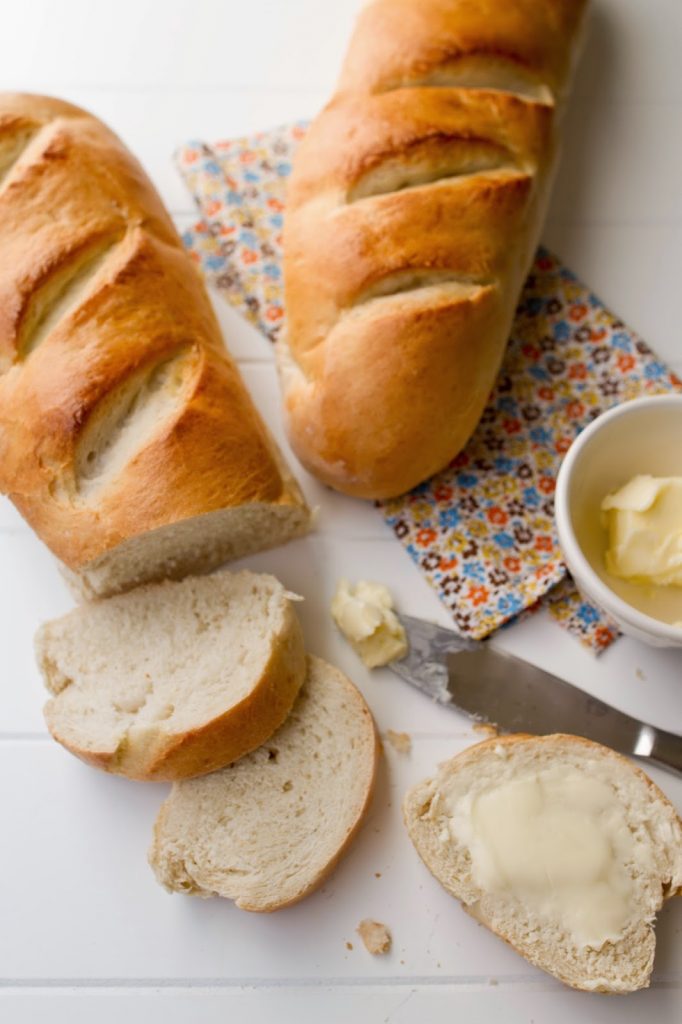 My go to recipe is always this French Bread. Quicker and easier than rolls, perfect to bake and bring to a neighbor and makes the best base for French Bread Pizza (not to mention amazing French Toast!)
French Bread
Printable Version
Makes 2 loaves
2 1/4 cups warm water
2 TBSP granulated sugar
1 TBSP yeast
1 TBSP salt
2 TBSP vegetable oil
5-5 1/2 cups all purpose flour
1 egg
1 tsp water
In a large mixing bowl, mix together yeast, sugar and water. Cover with a towel and let it proof for 6 minutes. Add in salt and oil. Using your dough hook on your mixer or just your hands, stir in 5 cups of flour and knead for 8 minutes. Add in more flour if needed. Your dough should be smooth and just barely sticky. Let the dough rest for 15 minutes, then knead for 1 minute. Repeat 3 times (a total of an hour) and cover with a towel in between. Lightly spray a baking sheet. Turn out onto a lightly floured surface and divide dough in half. Roll each half into a 9×13 rectangle and roll up lengthwise. Pinch the seam together and place onto the baking sheet. Repeat with the second dough. With a sharp knife, make 3 slits on the top of the dough. Cover with a towel and place in a warm spot. Let it rise for 30 minutes or until double in size. Preheat oven to 375. In a small bowl whisk together egg and water to make an egg wash. Brush on top of the dough. Bake for 30 minutes. Serve warm.
Adapted from The Sister's Cafe