I've come to the conclusion that my children won't starve if they miss a meal.  Sometimes dinner time is really stressful and I wish I could just feed them cold cereal every night.  Just think about it.  It would mean eliminating a lot of dirty dishes.   My kids wouldn't cry when I placed the bowl in front of them.  Sometimes it's hard to make all three of my little boys happy and I feel like it's a huge achievement if there are no tears shed over what I've made for our meal.  By either them or me! Ha!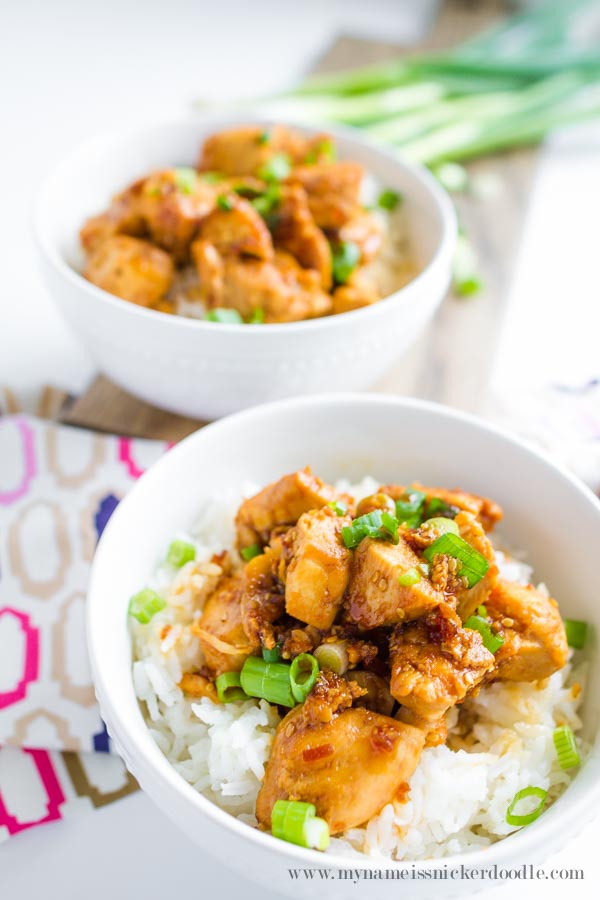 I know that would be a terrible choice so I've been trying to come up with some dinner ideas that everyone will love.  We've become a rice family (still working on the whole brown rice idea with them!) and they all love chicken.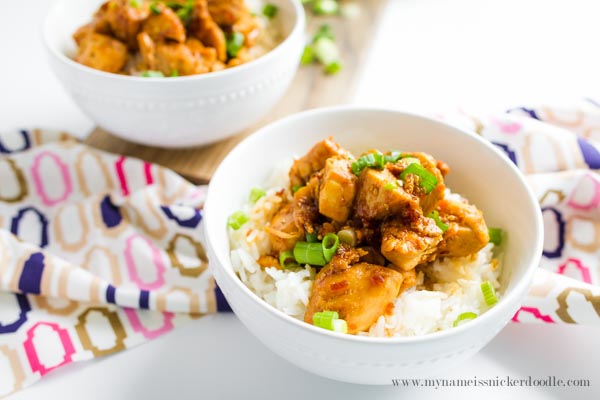 These Chicken Teriyaki Bowls are a super winner in my house.  It's ready in about 20 minutes and I don't have to stress over too many dirty dishes!  We typically serve it with some steamed broccoli or snow peas, but most any veggie would be great with this.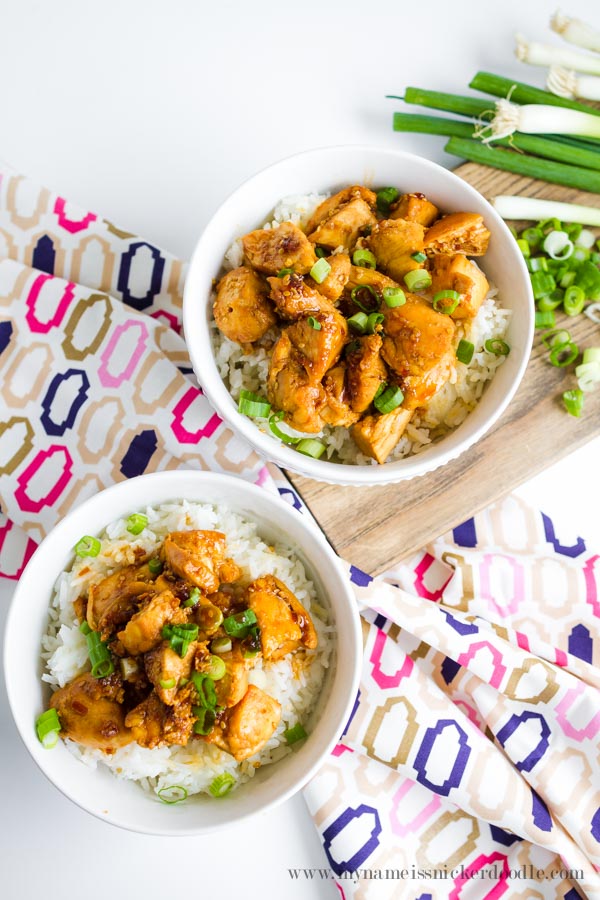 Chicken Teriyaki Bowls
Serves 4
Printable Version
Ingredients
2 large chicken breasts, cubed
3/4 cup low sodium soy sauce
2 garlic cloves, minced
1/2 tsp ground ginger
1/2  cup brown sugar
1/2 cup water
2 TBSP cornstarch
1/2 tsp sesame seeds (optional)
2 scallions, thinly sliced
2 TBSP vegetable oil
4 cups cooked white or brown rice
Directions
1.  In a large bowl whisk together soy sauce, water, garlic, ginger, and brown sugar.
2.  Add chicken to a large zip seal gallon bag and pour in half of the marinade.  Place in the fridge and let it marinate for 30 minutes up to 2 hours before cooking.
3.  In a large skillet over medium high heat, heat oil.
4.  Add in the chicken.
5.  Spread out in the pan and cook 2-3 minutes on the first side and 1-2 minutes on the second side or until cooked through.
6.  Remove chicken to a plate.
8.  Add in cornstarch to the remaining marinade and stir to combine.
9.  Pour marinade into the hot pan, making sure to scrape up any brown bits off the bottom.
10.  Bring to a boil and let it thicken slightly.
11.  Toss in sesame seeds, scallions, and chicken and remove from heat.
12.  Serve over rice.