So, I've been sitting on this recipe for a while now.  Last year alone I probably made them every three weeks or so.  It was bad!  Well, bad in the good sense!  I baked them for my husband's primary church class, for parties, neighbor gifts and because it was Tuesday.  You get the idea.  I LOVE this recipe.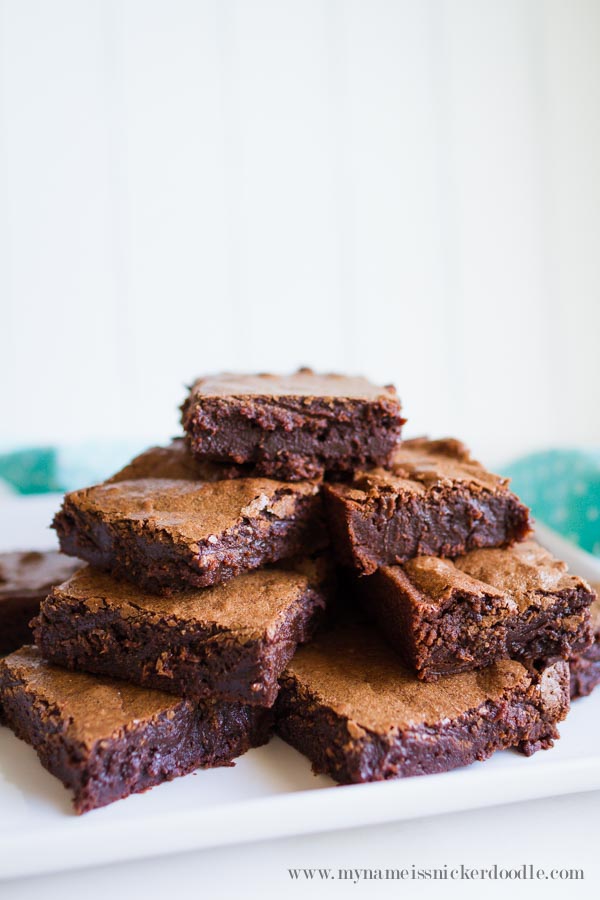 I was waiting to post it until I made a video of me making them.  Because, you know, videos are so a thing now!  Well, I made the video 7 months ago!!!  I have a hard time with sharing projects that aren't perfect.  Perfect to me.  I'm trying to get over it and just put out some great content.  Not everything has to be absolutely glorious, right.
That doesn't mean that I don't love the direction I'm going with video, Face Book and Instagram. Sometimes I just have to put myself out there and just do it for the sake of doing it.  Trying to make myself a little better every day and pushing my limits inch by inch!
Back to the brownies.  I originally found the recipe over at Baked In Arizona.  Adel has some of the yummiest and family friend recipes out there.  She is so genuine and kind, too! I used what I had on hand at the time and tweaked it like all food bloggers do.
In the video below I only put in 1 stick of butter.  The recipe calls for two.  See, not perfect.  They still tasted fabulous, but more on the cakey side versus fudgey like the recipe below.  Most people like one or the other so bake them with either version.
The Best Homemade Brownies
Ingredients
2 sticks butter
2 cups semi sweet chocolate chips
1 cup brown sugar
1 cup granulated sugar
5 large eggs
1 1/4 cup all purpose flour
2 TBSP unsweetened cocoa powder
1 tsp salt
Directions
1.  Preheat oven to 350 degrees.
2.  Lightly spray a 9×9 pan with cooking spray and set aside
3.  In a small bowl whisk together flour, salt and cocoa powder and set aside
4.  In a large microwave proof bowl, melt together butter and chocolate chips for about 1 minute, stirring every 20 seconds until chocolate is melted and mixture is smooth.
5.  Stir in brown sugar and granulated sugar until combined.
6.  Mix in eggs one at time, fully incorporating one before adding in another.
7.  Gently fold in flour mixture..
8.  Pour into pan and bake for 30-35 minutes.
9.  Cool for about 1 hour before serving.