I remember that nail art really became huge while I was in Junior high (late 80's). Neon colors, airbrushing and the ever coveted nail jewelry! There was a girl in my science class that got her acrylics painted every two weeks. One week she came in with palm trees and a beach scene painted on every nail complete with a pinky nail dangley ring.
As I'm sure you've seen all over Pinterest, nail art is back! Some just as tragic as those palm trees and some that I can't resist trying. Like anything with glitter!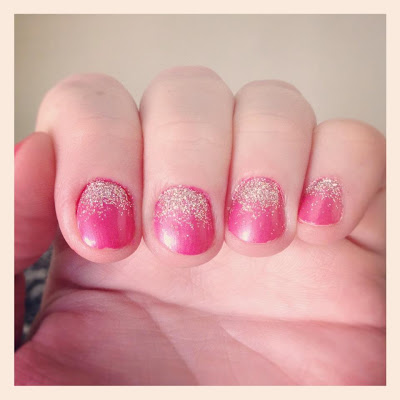 I should have cleaned up my cuticles before I took this pic,
but I was so excited that it turned out.
I would link up where I found the how-to, but it was so easy that
I didn't save (or Pin) it…and now I can't find it.
Glitter Ombre Nails
Nail polish
Ultra fine glitter (I used Martha Stewart brand)
Clear coat
1. Paint your nails with a thin color coat and let dry.
2. Paint one nail (I started with my pinky) with another thin color coat and then quickly sprinkle the nail bed with glitter. Focus on the base and then gradually add less and less toward the tip. Blow off any excess. I blew away from the nail tip.
3. Repeat with each nail and let dry.
4. Paint with a clear top coat and let dry.
*I poured out a little glitter onto a piece of paper and sprinkled it with my fingers. If you use ultra fine glitter it won't be as rough to the touch if you were to use regular glitter.
Mix up your paint color and glitter color for a fun and whimsical look!