I know. It's not Friday. But, like many of your lives, I've been so swamped with everything that my little blog is taking the hit. I had planned on giving you some fabulous peppermint recipes over the month of November and I missed a few Fridays. I'm sorry about that.
I'm hoping, though, that his recipe will make up for all of that because it's divine. Pure, simple and easy!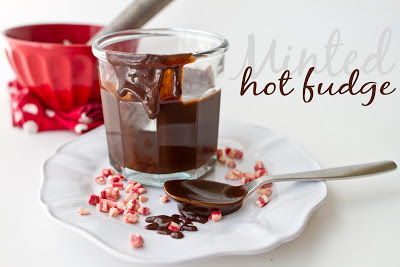 Minted Hot Fudge
Printable Version


3 TBSP+2 tsp unsweetened cocoa powder
1 cup sugar
2/3 cup evaporated milk
1/2 cup unsalted butter
1 tsp peppermint extract
In a medium saucepan whisk together cocoa and sugar. *This will help with any lumps in the cocoa. Pour in the milk. Cut up butter into small pieces and add to the pan. Over medium high heat, bring to a boil. Whisking constantly, boil for 4-5 minutes or until thickened. Remove from heat and add in peppermint extract. Stir to combine. Serve.