Homemade Birthday Cake Ice Cream is a super creamy celebratory frozen treat and it doesn't need to be anyones birthday to enjoy!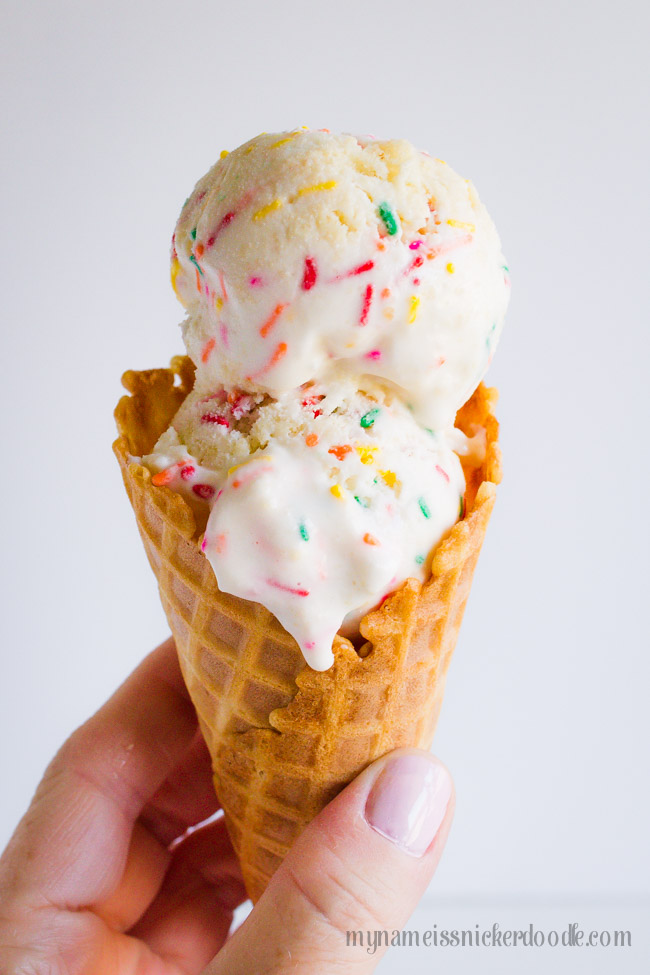 Everyone one has their own special birthday traditions and most of them involve some sort of cake!
It's been our family's tradition every year since our first son was born to make a homemade cake in whatever flavor the birthday boy (or girl, me!) wants.  After the candles are blown out, we all just dig in!  No forks or plates to mess with.  Of course, that is just with our immediately family.  That would be a little weird to do with guests!
When thinking about what recipes I wanted to make for my homemade ice cream week, I knew that Birthday Cake had to make the list.  Every child loves it and I think my favorite part is the bits of vanilla cake swirling through it!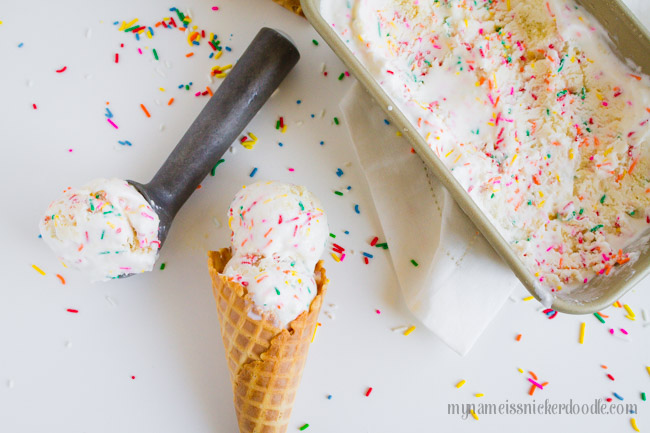 There are two ways you can add vanilla cake with frosting with you cake.
You can actually bake a simple vanilla cake and frost it with a yummy buttercream or store bought frosting.
The best and fastest way to do this is use a box mix, make it according to directions and pour it into a large baking sheet with sides.  Make sure to grease it well with cooking spray.  Bake it at 350 for about 10-12 minutes.  Let it cool completely before frosting it.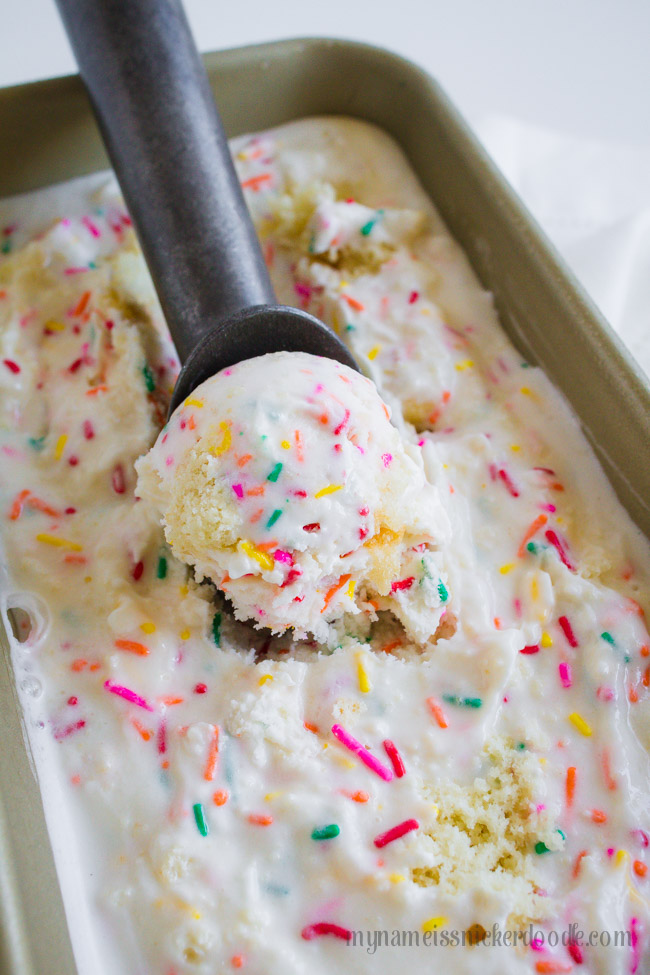 You won't need the entire cake for this ice cream recipe.  Just about 2 cups worth of crumbled up goodness.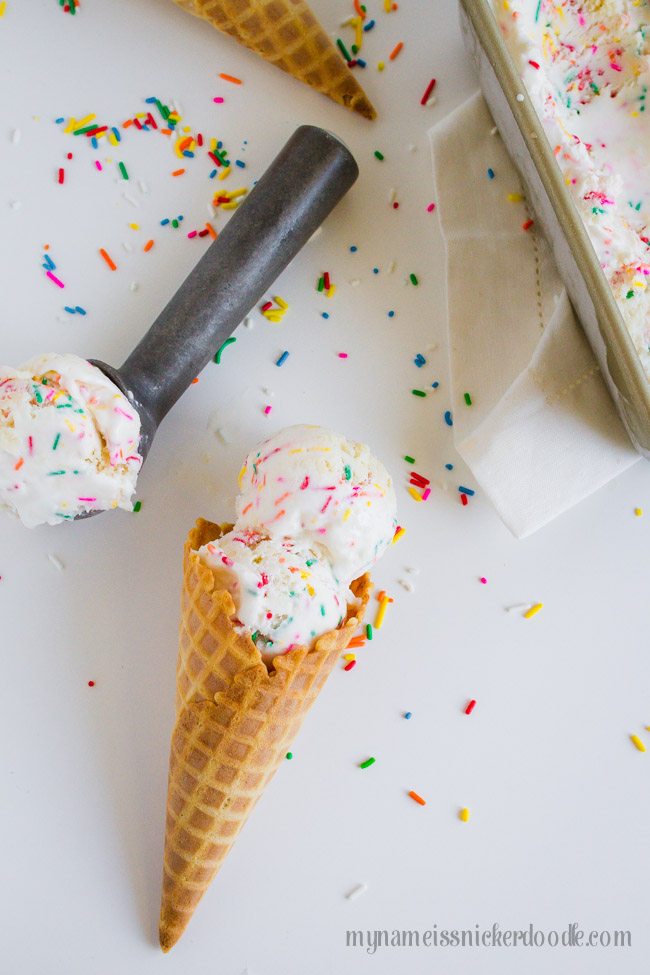 The second way is buy two vanilla cupcakes from your local bakery or grocery store and crumble them up.  They both work out really well.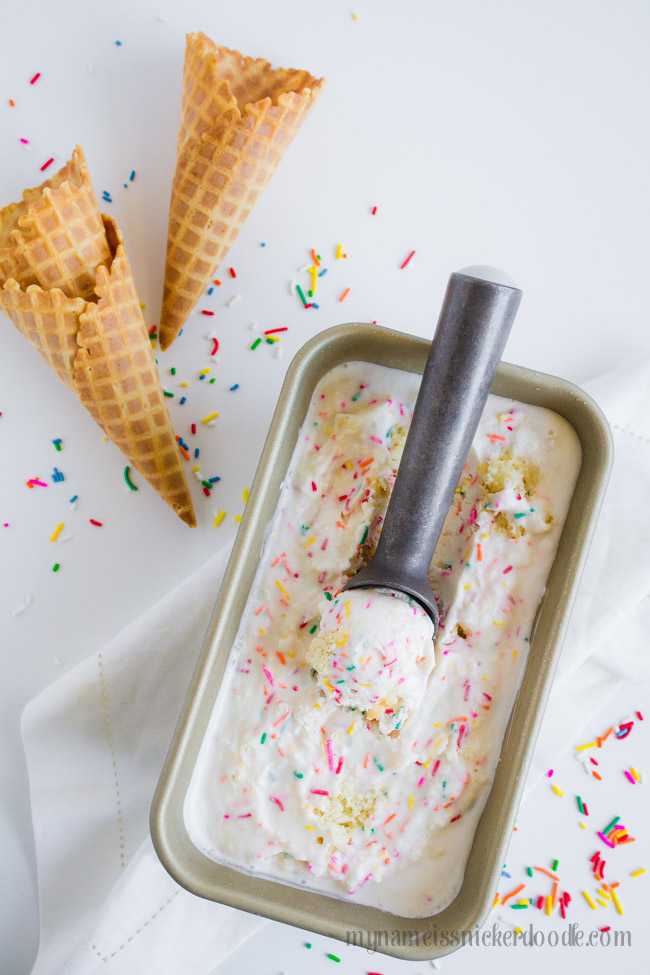 What sprinkles should I use?
The sprinkles are probably the most important part to get right in this recipes.
You need to use a solid sprinkle that won't bleed when it's added to the ice cream.  That typically means using a "jimmie".  I used these Rainbow Jimmies in my recipe.  Sprinkles like this are not candy coated like nonpareils.  Those you want to stay away because the color on the outside will swirl into your white ice cream base.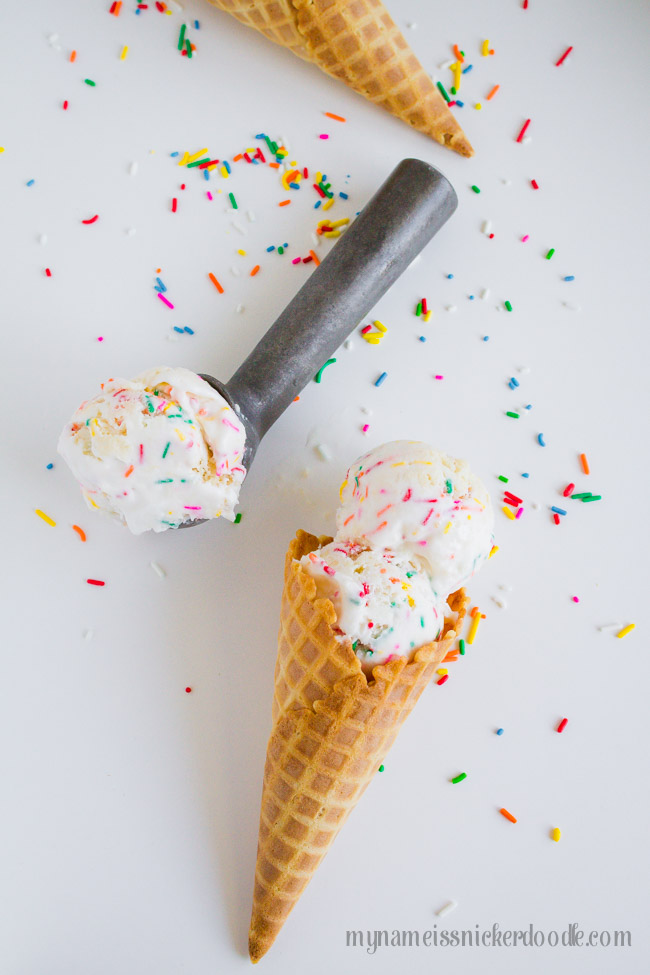 Homemade Birthday Cake Ice Cream Recipe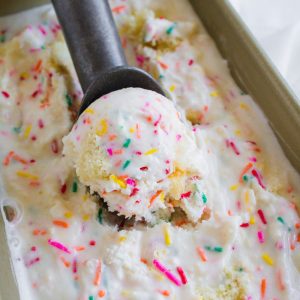 Homemade Birthday Cake Ice Cream
Homemade Birthday Cake Ice Cream is a super creamy celebratory frozen treat and it doesn't need to be anyones birthday to enjoy!
Print
Pin
Ingredients
1 1/2

Cups

Heavy Whipping Cream

1 1/2

Cups

Half and Half

1

Cup

Granulated Sugar

1

tsp

Pure Vanilla Extract

1

tsp

Pure Almond Extract

1/2

Cup

Rainbow Sprinkle Jimmies

2

Bakery Vanilla Cupcakes With Vanilla Frosting
Instructions
In a large bowl mix together whipping cream, half and half and sugar.

Stir until sugar is dissolved.

Add in vanilla extract and almond extract.

Pour into prepared ice cream maker.

Gently chop or crumble up both cupcakes and set aside.

Turn on and let it run for about 20-25 minutes.

Once it has started to firm up and get semi frozen, toss in crumbled up cupcake and sprinkles.

Mix for another 2 minutes.

Turn off ice cream maker and pour ice cream into a medium container.

Freeze for 4 hours before scooping and serving.
Make sure to try these other homemade ice cream recipes…
And don't forget to grab all my tips and tool recommendations over here!