I don't think I've shared a recipe story in a while and this one always makes me laugh. I actually made this recipe about 2 years ago to take pictures of and blog. We had recently moved to Austin and were making new friends. Some of those new friends lived down the street from us, the Griffiths. We had kids the same age and went to the same church.
I had all of the ingredients for these Chocolate Caramel Oat Bars, so I thought, and quickly realized I didn't have enough butter. I texted my new friend and asked if I could borrow a stick of butter. She did and I picked it up shortly afterwards. I resolved a long time ago to always quickly return any borrowed ingredients and if I was making a treat with them, to also share that baked good with the person I borrowed from. It's a win win.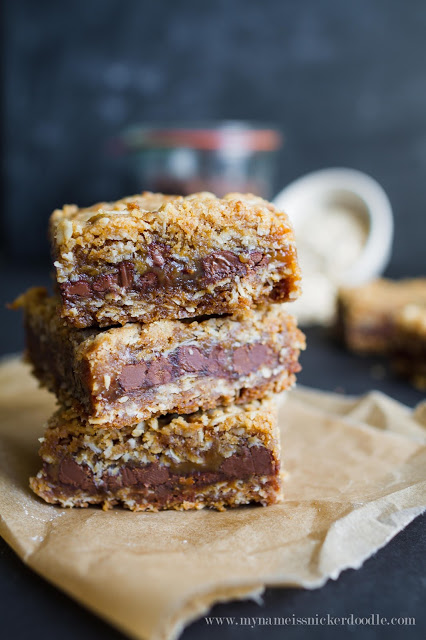 The next day I dropped off some bars along with a new stick of butter. Later that night she shared some with her husband (who we didn't really know that well yet) and he asked why I had brought them. She told him that I borrowed a stick of butter and just paid them back. He laughed and said something to effect, "Well, if a stick of butter gets us these great treats, what would she give us for a box of butter?!"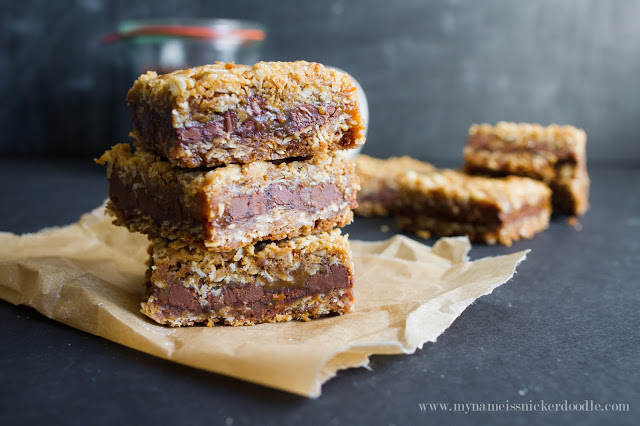 That same night we got a knock on our door. It was Shawn standing there with a box of butter and and thanked us for the bars. His wife was a little mortified when she found out he did that (because we still didn't really know them that well yet). It was actually that little act of thoughtful funniness that sparked one of the greatest friendships my husband and I have ever had!
They shared that story with many people in our church and from then on, I still get random people giving me boxes of butter in hopes that I will share a treat with them!
By, the way, these bars are super chocolatey, gooey and down right the best!!!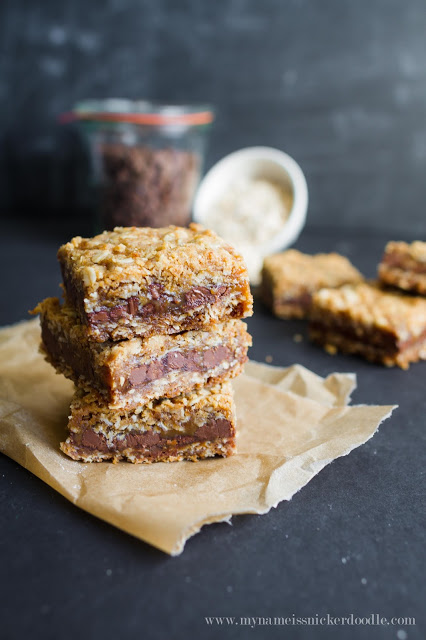 Chocolate and Caramel Oat Bars
Printable Version
Ingredients
2 cups quick cook oats
2 cups all purpose flour
1 1/2 cups brown sugar
1 tsp baking soda
3/4 tsp salt
1 1/2 cups butter, melted (3 sticks)
2 cups chocolate chips
2 cups caramel bits
2 TBSP milk
Directions
1. Preheat oven to 350 degrees.
2. Lightly spray a 9×13 baking dish with cooking spray.
3. In a medium bowl mix together oats, flour, brown sugar, baking soda and salt.
4. Add in melted butter and mix to combine.
5. Press half of the oat mixture into the bottom of the dish into an even layer.
6. Bake 15 minutes.
7. While oat mixture is baking, melt together caramel and milk in the microwave for 1 minute or until completely melted. Stir to combine.
8. Sprinkle chocolate chips over cooked oat mixture then pour caramel over the top.
9. Crumble the remaining oat mixture over the top and bake for 20-25 minutes or until lightly golden brown.
10. Immediately run a sharp knife around the edges and let cool in the pan for 2-4 hours before cutting and serving.