I am a big fan of birthdays!  Maybe it's the only child in me, but I find it so fun to have a day just dedicated to celebrating you. And what's a birthday without a cake?  Over the last few years I've made my own cake.  I try to make something a little extra special and different.  I created this Orange Cream and Nutella Crepe Cake last year and just found it in my library.  My birthday is coming up in a few weeks and I just might make this again!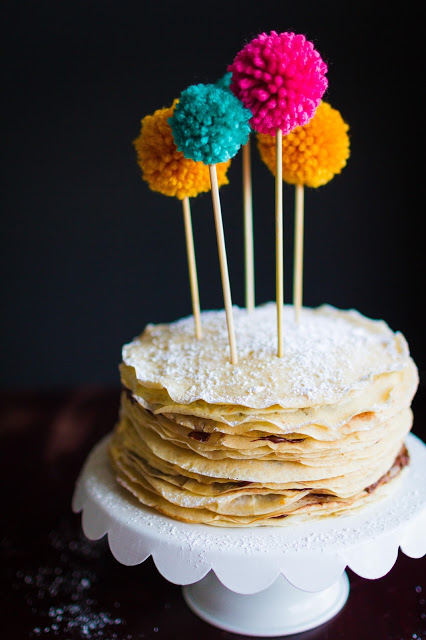 I know that it might seem a little daunting to make a million crepes for this cake.  It's a huge part of it's appeal.  I believe you can by crepes at the grocery store so feel free to do that if you aren't in the mood to go the extra mile.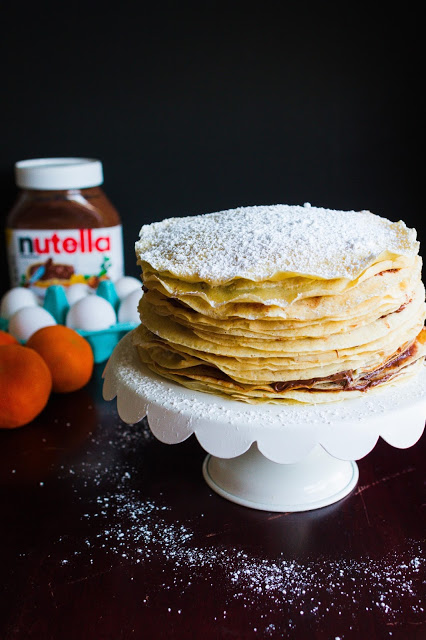 This crepe recipe is pretty great and easy.  I got it years ago from a friend who made them all the time for her family.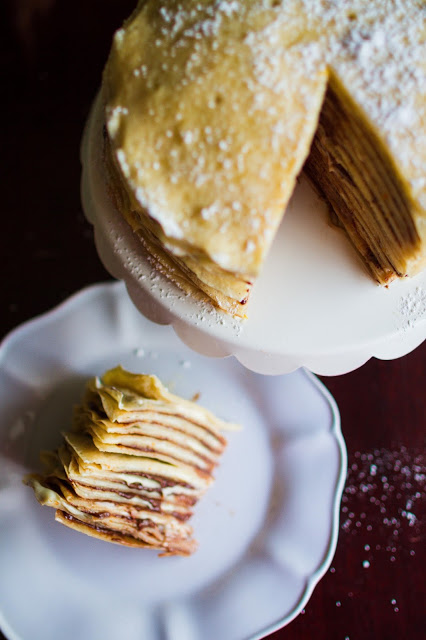 When I was thinking about doing a crepe cake, I wasn't exactly what flavors I wanted for the filling.  There are so many options!  Then a few nights before my birthday the thought came to me to combine Nutella with orange and I was set!  It's unexpected, but truly so good!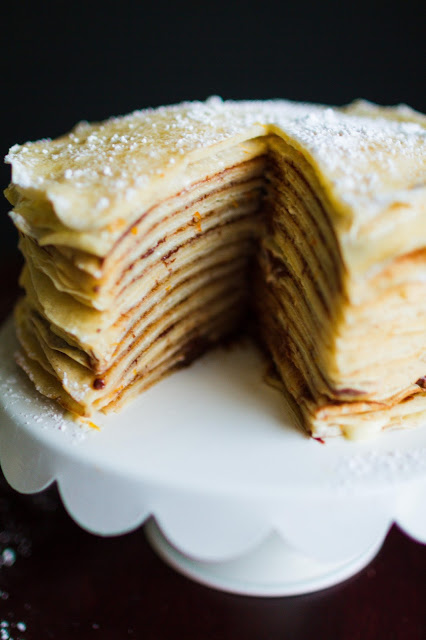 Orange Cream and Nutella Crepe Cake
Printable Version
Serves 6-8
Ingredients
Double this Recipe for Crepes (You'll need about 15-20)
1 Cup Nutella
6 oz Cream Cheese, Softened To Room Temp
1 1/4 Cup Powdered Sugar
Zest and Juice From 1 Large Orange
Powdered Sugar For Dusting
Directions
1.  In a medium bowl, mix together cream cheese, powdered sugar, orange juice and zest together until smooth.
2.  Place a crepe onto large plate or cake stand.
3.  Spread a very thin layer of Nutella on top, reaching the edges.
4.  Place another crepe on top and spread a thin orange layer on top, reaching the edges.
5.  Repeat layers with remaining ingredients ending with a single unfrosted crepe on top.
6.  Cover with plastic wrap and chill for 2 hours before serving.
7.  Dust with powdered sugar and slice.
Here's another birthday treat you might love!