The winter months are still here and even though that doesn't mean snow or freezing weather here in Texas, it does mean comforting food!  I know everyone else is trying to eat healthier, but I look at it this way.  We are still in the throws of sweater/layering weather and the fresh produce isn't all that great right now to strictly start eating just salads.  Am I right?
When eating comfort food, full flavor is always best!  It's super creamy, savory and all around perfect!  I am now completely craving this dish right now.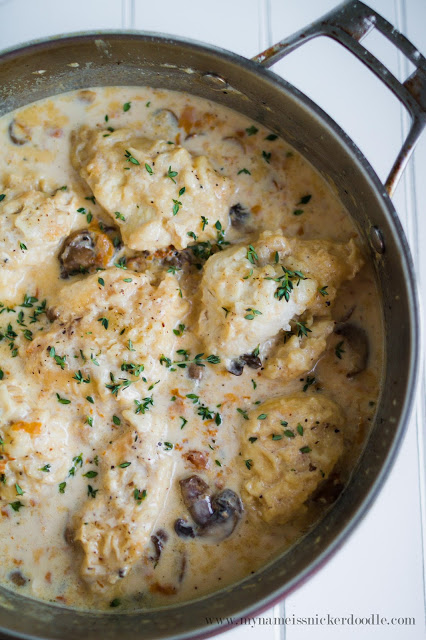 This Chicken and Mushrooms recipe is made with chicken breasts but can easily be substituted with chicken thighs and is even really good with pork chops.  The cook time will be about the same.  Add a few more minutes if you are cooking thighs, though.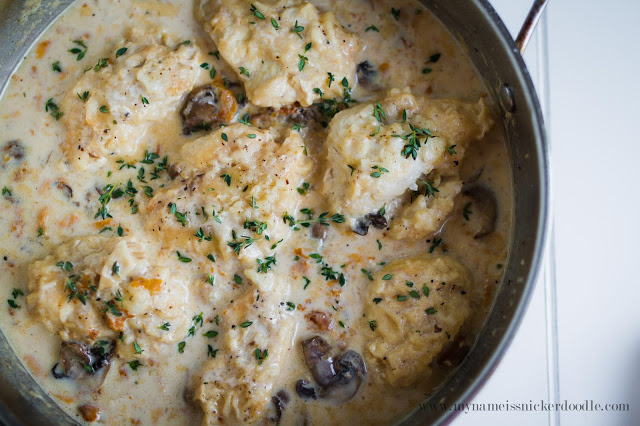 I know most people either love mushrooms or dislike them VERY much.  My
husband has never been a super fan of mushroom until I made this for
him.  Sometimes mushrooms can have a weird texture or taste very
mushroom-y.  In this dish they are perfect!  However, feel free to leave
them out and it's still a really great dinner!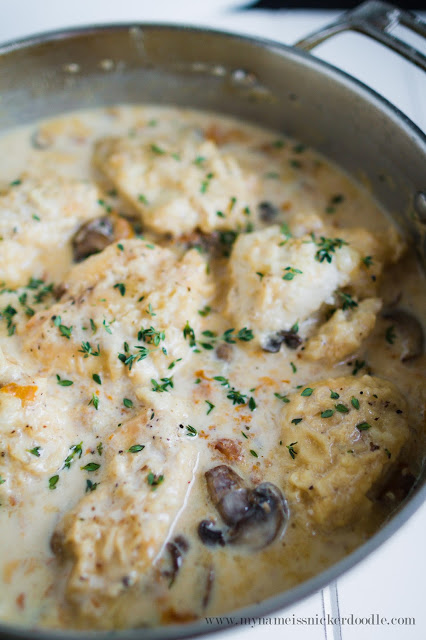 We typically serve this over mashed potatoes, but it's fantastic over rice or pasta.
Chicken and Mushrooms
Printable Version
Serves 4-6

Ingredients
4 Chicken Breast, cut in half
8 oz. Sliced Button Mushrooms
1 TBSP Butter
2 TBSP Extra Virgin Olive Oil
1/2 cup All Purpose Flour
1/2 tsp Garlic Powder
1 tsp Salt
1/4 tsp Pepper
1 12 oz can Evaporated Milk
2 Thyme Sprigs, Leaves Removed
Directions
1.  Heat butter and olive oil in a large pan over medium high heat.
2.  Dredge chicken pieces in flour and shake off excess.
3.  Arrange chicken in a single layer into hot pan.  Sprinkle with salt and pepper.
4.  Cook for 3 minutes and turn over to other side.
5.  Add in sliced mushrooms and saute with chicken.
6.  Cook for another 3 minutes.
7.  Pour milk over chicken and mushrooms.
8.  Cover with a lid and reduce heat to medium low.
9.  Cook for 15-20 minutes or until chicken is cooked through.  Milk will thicken.
10.  Season with more salt and pepper if needed and garnish with thyme leaves.
11.  Serve over mashed potatoes, pasta or rice.
 Here are some other great recipes!