Here we are in a new year!  I have a feeling that 2016 is going to be much better than 2015 ever thought to be!  I am going to be getting back to just sharing here.  Sharing recipes, of course, but sharing my stories, my day to day life, my family growing up, new crafts and projects!
I really never intended for this to become strictly a food blog.  Not that I don't totally love it, but I need it to be more.  So get ready for some new content and hopefully a new look this spring!
I've met some great friends in Austin.  Some were already established here when we moved and some have moved in after us.  Can you believe we've lived here almost 2 years!  It's completely flown by.  My beautiful friend Brittany and her family moved in about a year after us and we just fell in love with their family.  Their oldest son is close in age to my oldest and they love playing together.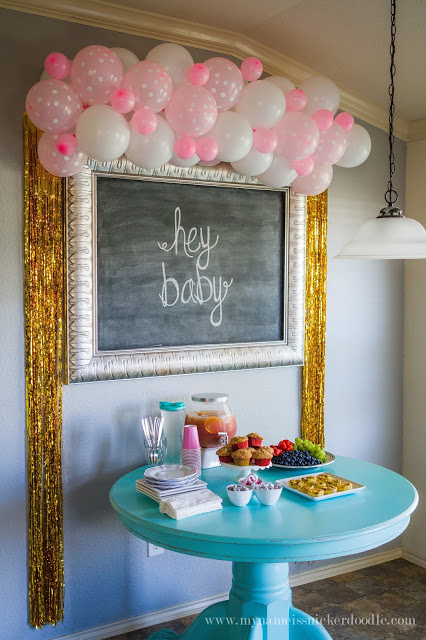 Life happens and we don't get to hang out as much, but we sure do enjoy ourselves when we do.  Britt is about to have her fourth baby soon and every woman needs a little celebration when that happens.  I gathered a few of her friends over at my house for a little surprise Baby Brunch last week.  I didn't want to go all out on decorations, but knew I wanted to have a little wow factor going on!
A few weeks before Christmas I was watching a Periscope from Classy Clutter on their balloon garland.  I knew instantly I wanted to make it, but didn't really have a reason to.  Planning the brunch, it came back to me and I just had to do it.
My husband was a trooper and blew up all the balloons for me.  (Next time I buy a tank!)  and I strung them onto fishing line.  The adorable ladies at Classy Clutter are posting a full tutorial soon.  It took no time at all and definitely has that wow factor!  Mine had 30 large balloons and about 12 smaller balloons.  I purchased the small ones at Party City and the larger ones at Michael's.  I already had the fishing line.  The gold streamers down the side I bought on Amazon last year.
I love my friends and definitely want them to feel loved and special.  Brittany was very surprised and I sure hope she felt loved!
Check out the other baby shower I threw here, and as for the chalkboard, here is what I did!