Typically I try to share some story about the recipe I'm about to share with you. I don't have one this time.
This is just a recipe that my family loves.
A super fantastic, easy and delicious recipe that goes into a bi-monthly menu rotation!
It's one of those recipes that you really can't mess up and after making it a few times you can improvise with the ingredients.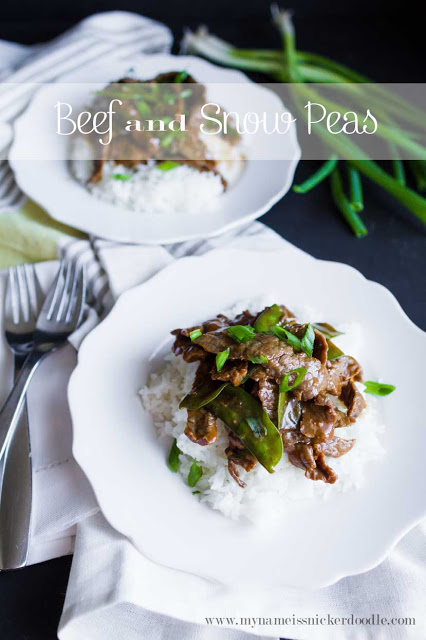 What's also important to me with this dish is that my kids LOVE it. It's a dinner where I don't have to worry about someone crying over it! And in my life right now, that's pretty high on the priority list!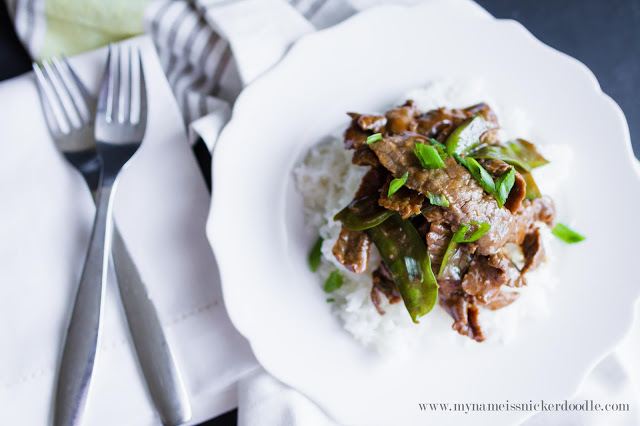 It truly comes together in no time and makes for perfect leftovers…if there is any left after dinner!
I've also made this recipe with broccoli and it tastes equally as great! Just choose a vegetable your family will eat.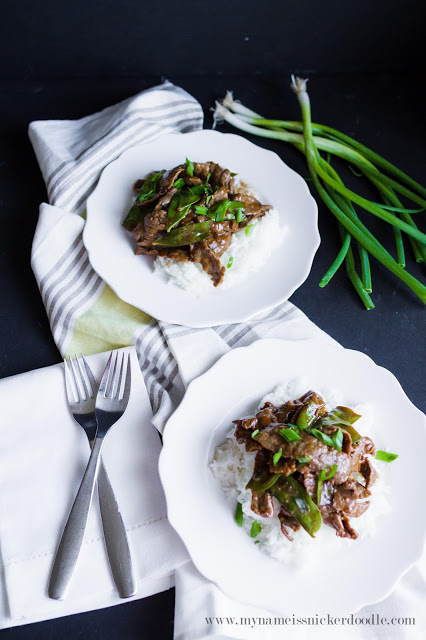 Beef and Snow Peas
Adapted from Pioneer Woman
Printable Version
Serves 4
Ingredients
2 lbs round steak, thinly sliced
1/2 cup low sodium soy sauce
2 garlic cloves, minced
1/4 tsp ground ginger
1/4 cup brown sugar
1/4 cup water
2 TBSP cornstarch
2 scallions, thinly sliced
1 1/2 cup snow peas, cut in half if large
2 TBSP vegetable oil
4 cups cooked white or brown rice
Directions
1. In a large bowl whisk together soy sauce, water, garlic, ginger, and brown sugar.
2. Add in sliced meat and let it sit for 30 minutes before cooking.
3. In a large skillet over medium high heat, heat oil.
4. Once hot, sear snow peas for 1 minute, stirring halfway through.
5. Remove to a clean plate.
6. Add more oil if needed and once pan is hot again, add in half of the meat, leaving the marinade in the bowl.
7. Spread out in the pan and cook 1 minute on the first side and 30 seconds on the second side.
8. Remove from the pan and repeat with remaining meat.
9. Add in cornstarch to the marinade and stir to combine.
10, Pour marinade into pan, making sure to scrape up any brown bits off the bottom.
11. Bring to a boil and let it thicken slightly.
12. Toss in scallions, meat and snow peas and remove from heat.
13. Serve over rice.
Here are some other great take-out recipes I hope you love!