Even though all of my Christmas decorations are down and my house is back to being somewhat organized, I'm having a hard time letting go of the holidays! There are still a few evidences of the fantastic time we had as a family. New toys are still being played with, new movies are still on repeat and we still have plenty of holiday candy left over.
We made these Holly Jolly Rancher Suckers during Christmas break and the kids gave some to their friends. I know it's the new year, but if you want to hold on a little longer, make these today. They are a total cinch!
Really you could use any flavor mix like I did for these Jolly Rancher Suckers found here. I used Cherry, Apple and I found Pineapple flavored ones in their new Tropical mix for the "white".
All you'll need is…
Red, Green and White Jolly Ranchers, unwrapped
Sucker Sticks
Parchment Paper
Large Baking Sheet
Start by preheating your oven to 325 degrees. Line the baking sheet with parchment paper. Place 3 unwrapped Jolly Ranchers together for each sucker. Place them far apart from each sucker because they will spread when melted. This step is great for the kids to help!
Bake for about 2-3 minutes then rotate the baking sheet. Bake for another1-2 minutes until the candy is melted and spread out some. The baking time determines the shape of the sucker. These will be irregular in shape, but the kids are going to love it!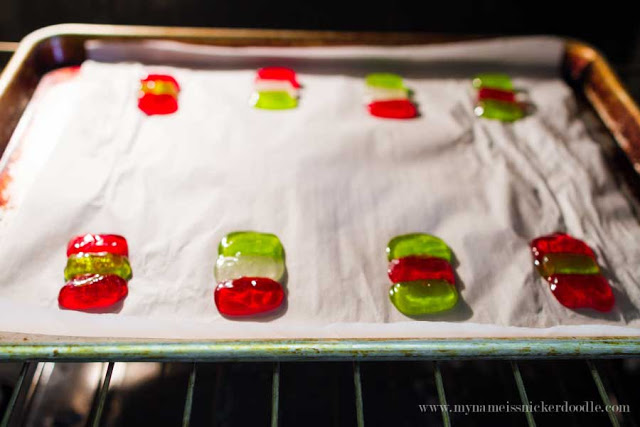 Remove from the oven and immediately place a sucker stick into the middle of the sucker and gently roll it in the hot candy so it becomes completely coated. This will ensure that it will stick to the sucker. Because the candy (and pan) will be extremely hot, this is best if an adult do this step.
Let them cool on the parchment paper for 15-20 minutes until completely cooled. Then enjoy!
I would love it you would follow me here at Instagram, Facebook and Pinterest!