If you set new year resolutions to eat healthy then I'm giving you permission to indulge over the next few days!  I actually did okay this holiday season and didn't over do it.  Okay.  I may have just a little on homemade bean dip, Stuffed Mushrooms and Cheesy Artichoke Dip!
I also did plenty of baking, but most of it was for class and work parties.  I made 40 Peppermint S'mores and 40 Swig Style Cookies for my husband's Christmas work lunch and then another 36 cookies for my son's 3rd grade winter party.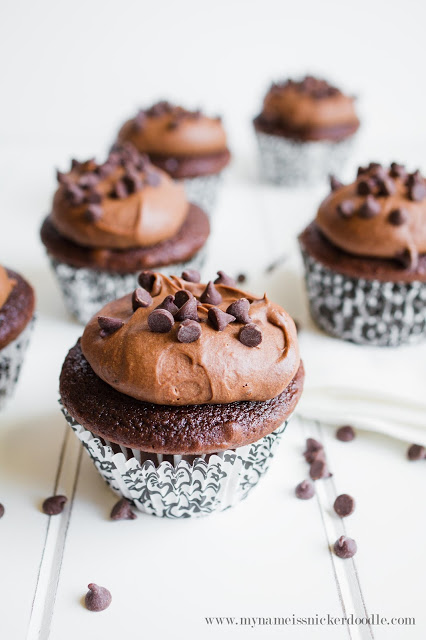 I personally feel like there is not enough chocolate when it comes to holiday desserts.  Pumpkin, spices, apples and peppermint seem to get all the glory these days.  I'm definitely not opposed to any of those.  Have you baked my Streusel Pumpkin Chocolate Chip Bread yet?  You'll know that I love a great pumpkin recipe then!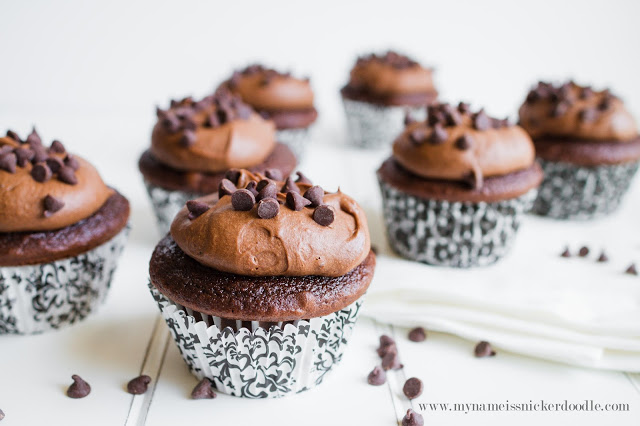 Chocolate desserts just always seem to be welcome anytime and so I couldn't resist sharing my recipe for Triple Chocolate Cupcakes.  They are super moist, fudgy and down right delicious!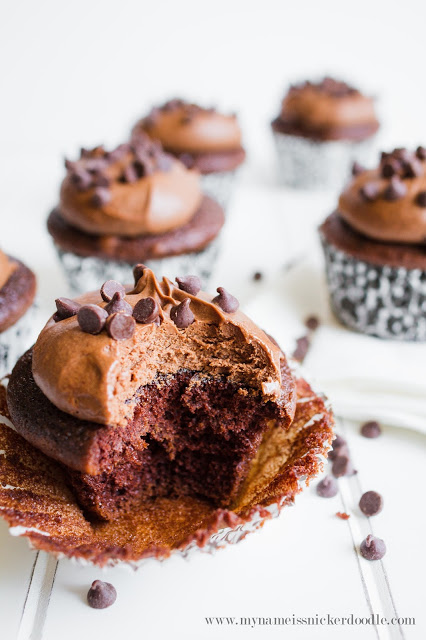 Triple Chocolate Cupcakes
Printable Version
Makes 24 Cupcakes
Ingredients
For Cupcakes
1 Devil's Food cake mix
1 small packet of chocolate instant pudding mix
3 eggs
1/4 cup vegetable oil
1 cup milk
1 cup sour cream
1 tsp pure vanilla extract
1 tsp almond extract
For Frosting
2 sticks butter, softened
2 cups semi sweet chocolate chips
1 1/2 cups powdered sugar
1/4 cup sour cream
1 tsp pure vanilla extract
1 cup mini chocolate chips
Directions for Cake
1.  Preheat oven to 350 degrees.
2.  Place cupcake liners into 24 individual muffin tins.
3.  In a large mixing bowl beat together eggs, oil, milk, sour cream and extracts together for 1 minute.
4.  Add in cake mix and pudding mix and beat on medium high speed for 2 minutes.
5.  Fill the liners up 2/3 of the way full and bake for 18-25 minutes or until centers are set and cooked.
6.  Remove from the oven and cool completely before frosting.
Directions for Frosting
1.  In a medium microwave proof bowl, melt 2 cups chocolate chips in the microwave for 1 minute, stirring every 10 seconds. Set aside to cool for about 5 minutes.
2.  In a medium bowl beat butter for two minutes.
3.  Mix in powdered sugar sour cream and vanilla extract.
4.  Fold in melted chocolate and stir to combine.
5.  Adjust the thickness of the frosting by adding more powdered sugar if needed or thin it out with a little milk.
6.  Frost each cupcake and sprinkle with mini chocolate chips.