This shop has been compensated by Collective Bias, Inc. and its advertiser. All opinions are mine alone. 
#YesYouCan #CollectiveBias
It's big game season and I think most of us have the itch to watch, play and of course eat yummy game day food!  With four boys in the house all of them are bound to happen!  I'm in it for the food and love to create easy, yet super tasty dishes that can be eaten with your hands.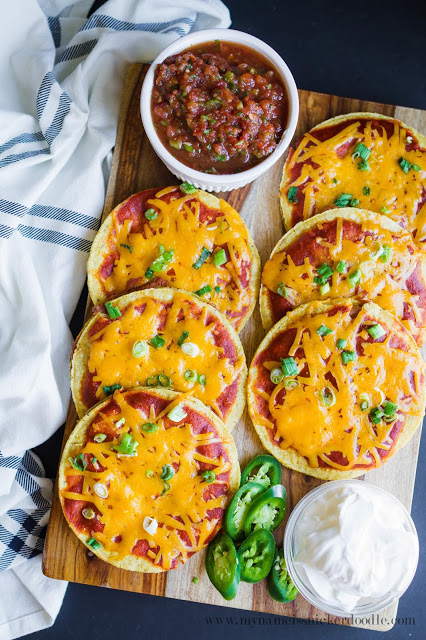 This year I created some incredible Mexican Pizzas and served them with sour cream and my Fire Roasted Salsa using Hunt's and Ro*Tel canned tomatoes.  I love to combine canned goods with fresh vegetables to make an incredible dip.
Along with making it easy to eat, I also like to make it simple for me to make!  One of my
FAVORITE KITCHEN HACKS of all time is using my food processor for my salsa recipes.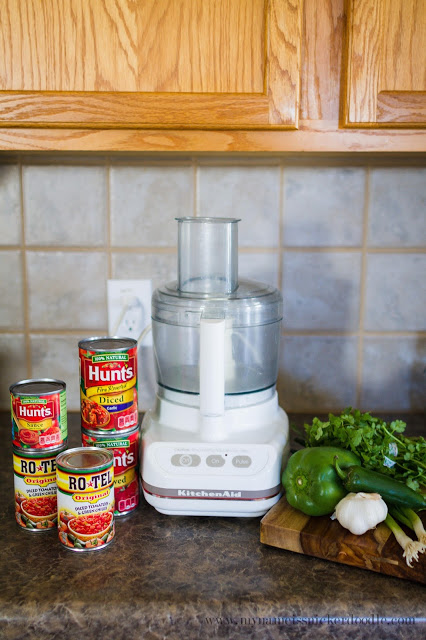 You can use a blender, but I find it almost chops it too fine.  You can control the chop a little better with a food processor.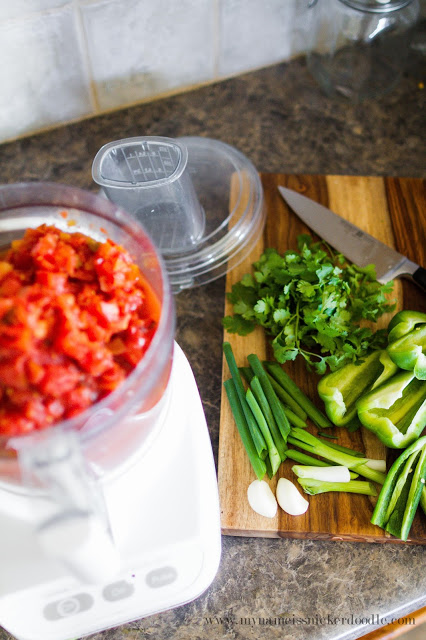 Once I've put my cans of Ro*Tel and Hunt's tomatoes in, I just cut out the seeds and stems from my fresh vegetables and let the food processor do the rest of the work.  Then I don't have to worry about getting them chopped finely enough.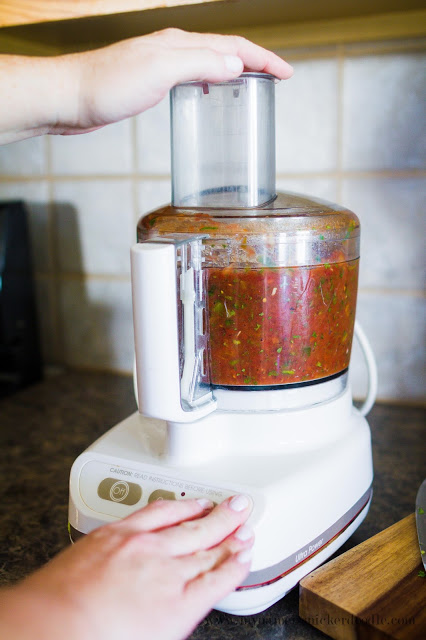 I make all of my salsa this way and it comes out perfect every time.  Just a few pulses do the trick!
Such a great kitchen hack, right?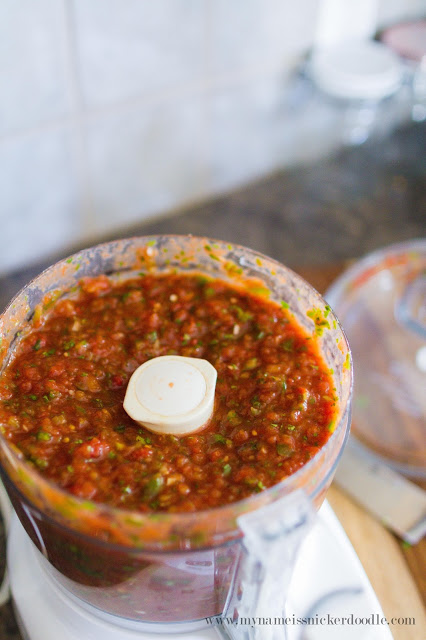 Eating this salsa with tortilla chips is ideal, but when it comes to watching the big game, you need to amp it up a bit!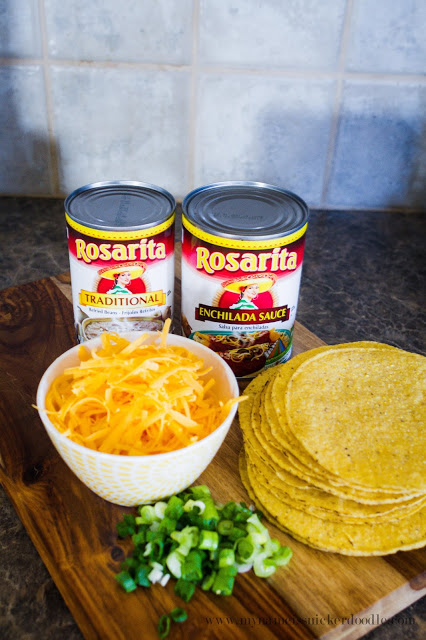 My family flipped over these simple Mexican Pizzas I made using Rosarita Traditional Refried Beans and Enchilada Sauce.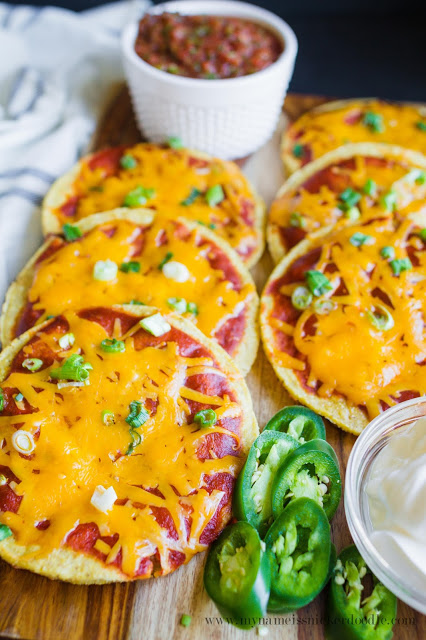 After making a quick trip to Walmart, it truly only took me 20 minutes from start to finish to make all of this!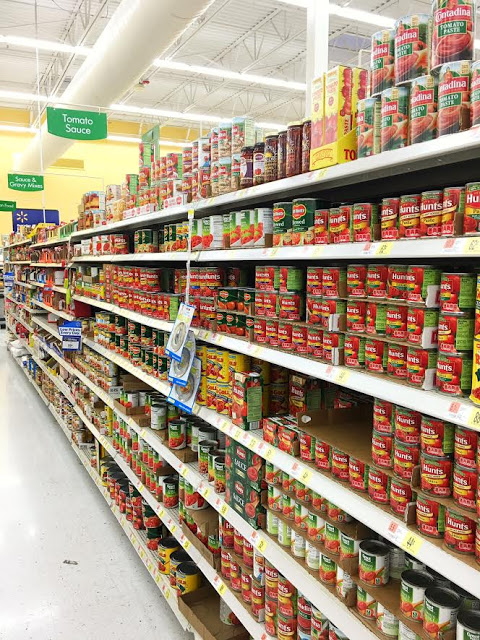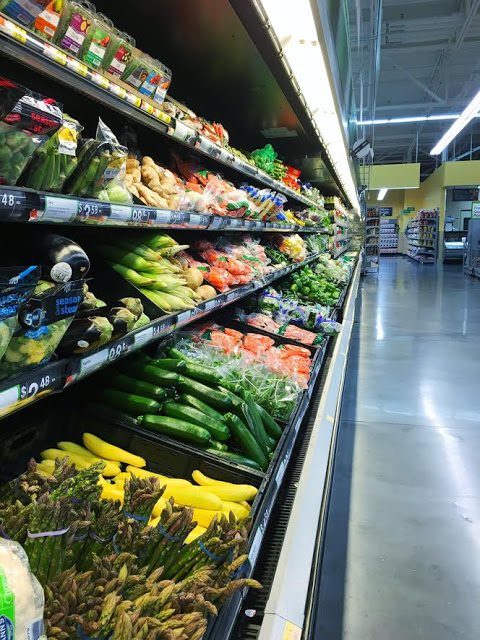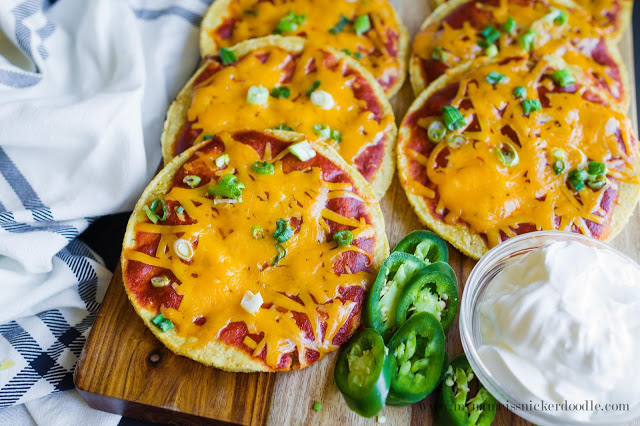 Feel free to cut the "pizza" in half or in quarters to make it easier to dip.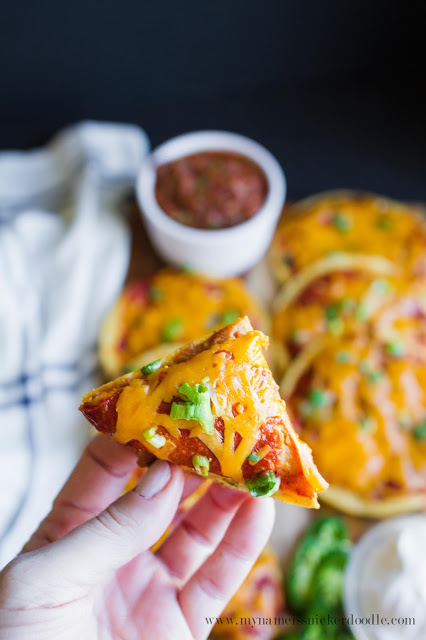 Fire Roasted Salsa
Printable Version
Ingredients
2 cans Ro*Tel Original Diced Tomatoes and Green Chilies, drained
1 can Hunt's Fire Roasted Tomatoes with Garlic, drained
1 can Hunt's Stewed Tomatoes, drained
1 small can Hunt's Tomato Sauce
1 green bell pepper, stem and seeds removed
3 green onions, roots removed
1 bunch cilantro, stems removed
1 jalapeno pepper, stem and seeds removed
2 garlic cloves
1 TBSP sugar
1 1/2 tsp salt
Directions
1.  Quarter chop the vegetables and blend all the ingredients together in a food processor until finely diced.
2.  Store in an airtight container in the refrigerator.
Mexican Pizzas
Printable Version
Ingredients
1 can Rosarita Traditional Refried Beans
1 1/2 cups Rosarita Enchilada sauce, divided
12 crispy tostada shells
2 cups shredded cheddar cheese
2 green onions, thinly sliced
Directions
1.  Preheat oven to 375 directions.
2.  Line a baking sheet with foil or parchment paper.
3.  In a medium bowl mix together beans and 3/4 cup enchilada sauce together.
4.  Place 6 tostada shells onto the baking sheet.
5.  Divide beans between the 6 shells and spread out evenly onto each on.
6.  Place a tostada shell onto beans.
7.  Spoon remaining enchilada sauce on top.
8.  Sprinkle with cheese and top with onions.
9.  Bake for 10-15 minutes until cheese is melted and beans are warmed through.
10.  Serve hot with salsa, sour cream and jalapeno slices.