WOW! 100 FFF's! I really didn't think I could make it last this long! I hope you've enjoyed it as much as I have! Come back on Monday to see how I am celebrating!!!
It's still November so that means I am still posting pumpkin recipes! I have to tell you…I was stuck after last week. I didn't know what to post next until just two days ago. It came to me while I was at the grocery store. I was shopping for baby's first birthday party and found some pretty fun supplies that I couldn't resist purchasing! Then this recipe just fell into place. I'm totally mixing it up today!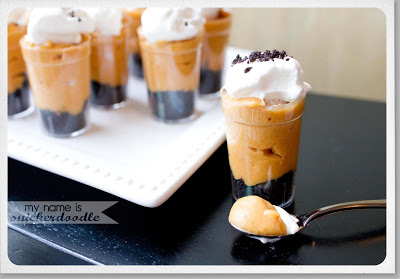 Pumpkin Pie Shooters With An Oreo Crust
Makes 20 Shooters
Printable Version
Pin It
1 small box instant vanilla pudding
1 1/2 cups milk
1/2 cup sour cream
3/4 cup pumpkin puree
1/2 tsp cinnamon
1/8 tsp nutmeg
10 Oreo cookies
1 TBSP butter, melted
1 cup whipping cream
1/2 tsp vanilla extract
3 TBSP powdered sugar
20 shot glasses
In a medium mixing bowl, beat together pudding, milk, sour cream, pumpkin puree, cinnamon and nutmeg. Whip for about 2 minutes until mixture thickens. Chill for 1 hour. In another bowl, whip up whipping cream, vanilla extract and powdered sugar. Whip until stiff peaks, about 3-5 minutes on high speed. Crush Oreo cookies until fine crumbs. Mix in melted butter. Place about 1 tsp of cookie crumbs into the bottom of each glass. Fill up the rest of the way with pumpkin mixture. Top with whipping cream. If you have any cookie crumbs left, sprinkle those on top. Serve chilled. They can be chilled for up to 4 hours before serving.
*If you don't want to make shooters, use the recipe above to make a pumpkin parfait. I just used a mason jar (each feeds two), but it would work well in any clear glass. Makes about 2-3 (mason jars).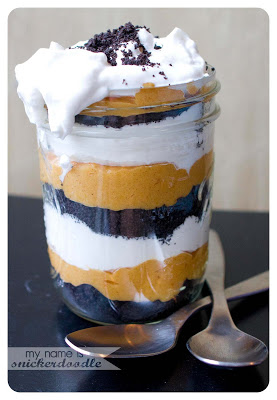 Pin It